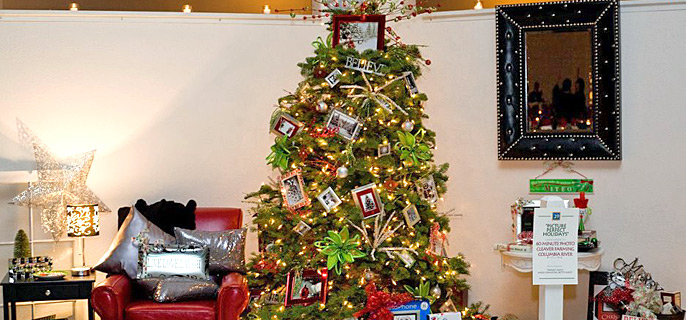 From Duck Dynasty to Beaver Nation, the Hermiston Festival of Trees will put gifts and trimmings of all sorts on the holiday auction block this weekend.
The annual, two-day event runs Saturday, Dec. 7, and Sunday, Dec. 8 and includes both an evening dinner and auction and a family day with children's activities and visits with Santa. Proceeds from both days will be split between the two event sponsors: The Hermiston Breakfast Kiwanis Club and the Good Shepherd Community Health Foundation.
"The 19th annual Festival of Trees is an enjoyable way to start the holiday season, support numerous community service organizations, and purchase great items to decorate the home, or at least get ideas from some of our wonderful decorators," Hermiston Kiwanis Breakfast Club President John Spomer said. "It is great to showcase the talents of some very artistic people and benefit the community in many ways."
The festival begins with a tree viewing at 6 p.m. Saturday, followed by dinner at 7 p.m. and a live auction at 8 p.m.
Ten trees take center stage during the live auction this year, including this year's "man tree" made of barbed wire and decorated with a "Duck Dynasty" theme.
Other titles include "Home for the Holidays," "Indulgence," "Nature's Blessing," "Joy to the World," "Indulgence," "A Million Minion Christmas," "Lumieres Scintillantes De L'Amour," "Beaver Nation" and "Sit and Sip a Bit."
Each tree will go to the highest bidder during a live auction on Saturday night. The winner will take home not only the fully decorated tree but any items around the tree, such as furniture or children's toys. The live auction will also include 22 decorated tabletop trees and baskets, and additional baskets, wreaths and stockings can be picked up in the silent auction.
Although the Saturday night dinner and auction is not sold out, Spomer said it will likely be sold out before the doors open.
"The dinner is not sold out at this time but very likely will be before Saturday night," he said. "Last week about half the 260 available had been sold.   I encourage all to go to the chamber office, Head Start office, or hospital administration office to get tickets."
Tickets are $30, and anyone unable to purchase tickets is still welcome to attend the auction portion of the evening.
While the Kiwanis Club and Good Shepherd Foundation will benefit from the auction and sales, a third cause, the Oxbow Trail, will benefit from a special raffle tree decorated by Cathy Wamsley.
"The trees done by committee member Cathy Wamsley are always intriguing," Spomer said. "It is a children's tree with many toys and I believe tickets for Disneyland."
Tickets for the raffle are $10 and will be sold during both days of the festival.
Saturday's events are for those 21 and older only, but guests of all ages are invited to the Festival of Trees Family Day on Sunday. From noon to 4 p.m., families can take advantage of crafts, games and live entertainment at the Hermiston Conference Center. The auction trees will remain on site for viewing before being delivered to high bidders, and Santa Claus will be available for photos.
Suggested donation for family day is $5 per family.