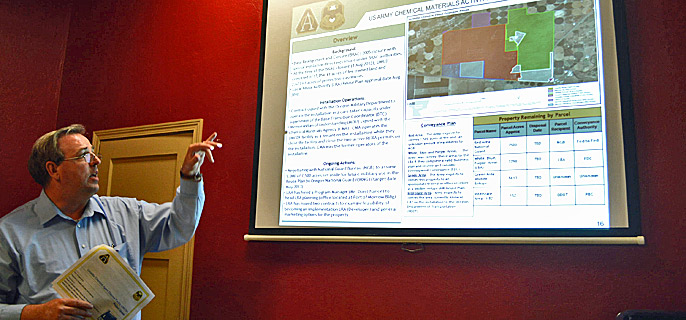 For 71 years, the Umatilla Chemical Depot served as an Army installation, storing both conventional and chemical weapons.
By 2011, all of the chemical weapons had been destroyed and in August 2012 the depot ceased being an active Army installation. It is now in the middle of a long closure process during which time the depot has been decontaminated and its buildings are being demolished.
What will happen to the depot land when the closure process is complete?
Phil Ferguson, the Umatilla Chemical Depot Base Realignment and Closure coordinator, provided some answers to that question Thursday during the Umatilla Chamber of Commerce's Business-to-Business Lunch meeting.
In 1988, the governor appointed 12 people to serve on the Local Reuse Authority. The LRA consists of representatives of the Umatilla and Morrow county governments, the Port of Morrow and Port of Umatilla, as well as the Confederated Tribes of the Umatilla Indian Reservation. Their job was to come up with a plan for the nearly 20,000 acres of depot land after it officially closes, mostly likely sometime in 2015.
Ferguson said 7,500 acres will be used by the Oregon National Guard for training purposes.
"As of now, the Guard has to go to Idaho or Yakima if they want to shoot their guns or run their tanks," he said. "They have no place to do that in Oregon."
A little more than 5,600 acres will be set aside as a wildlife refuge.
"The original vegetation that was in the Umatilla Basin is gone, except for what's on the Army Depot and what's on the Boardman Bombing Range," Ferguson said. "The military has been extremely good at preserving the original shrub steppe habitat that is native to the area and they want to see it preserved. It only works if you preserve large chunks of it. There's a lot of wildlife."
But who will actually own the wildlife refuge is unknown.
"Right now, we don't know who the future owner is going to be," said Ferguson.
Another 3,790 acres is slated to become industrial property.
"The Local Reuse Authority is studying the possibility of becoming the developer of that property and what they want to do is see if they can afford to recruit businesses in and take over that property," he said. "They want to see if they can build new businesses to get back all the jobs that have been lost out there.
"Ten years ago we had 1,200 jobs out there and we have a lot less now and we'll have a lot less in the future (as the depot closing process continues)."