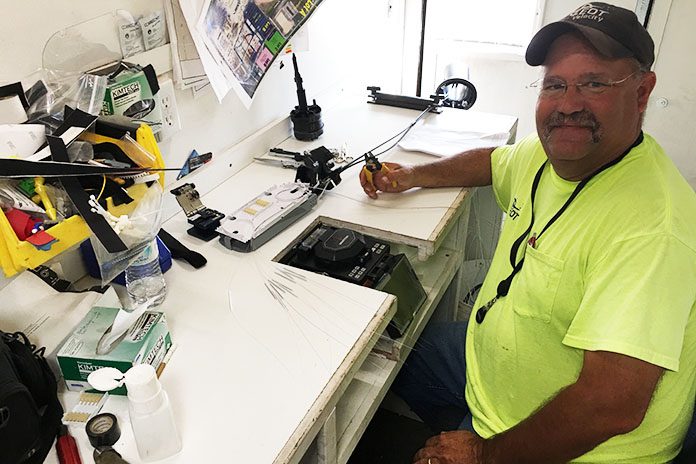 When fairgoers step onto the grounds of the Eastern Oregon Trade & Event Center (EOTEC) this week for the Umatilla County Fair and Farm-City Pro Rodeo, they'll be walking on ground that is as connected as connected gets.
"Our fair is probably going to be the most well connected fair in Oregon," said Joe Franell, CEO of Eastern Oregon Telecom, the phone and Internet provider for EOTEC.
Franell's crew on Friday wrapped up work on the facility. That work includes 25 WiFi access points capable of serving more than 5,450 concurrent clients with more than 30 gigs of concurrent traffic, and just over 25 miles of fiber.
"One of my guys said it was like building fiber for a small city," Franell said.
Franell said fairgoers and vendors alike will experience the best connectivity possible.
"These are high-end WiFi access points," he said. "Every vendor needs the Internet to process payments with VIP access on a secure line."
EOT installed dark fiber to the Umatilla County Sheriff's Office trailer at EOTEC as well as the Farm-City Pro Rodeo Mercantile building. Dark fiber is private fiber not accessed by the general public.
Franell said not only will the fair and rodeo benefit from the work EOT has done, but the facility will now be able to use its connectivity as a marketing tool.
"If we're competing to bring big-time events against The Dalles, Milton-Freewater and the Tri-Cities, this is a huge differentiator," he said. "You'll want to come here and bring your dollars to our region. The Toyota Center isn't this well-equipped."
Franell said EOT partnered with EOTEC because of its focus on local service.
"We live here," he said. "We care and are engaged in the long term."