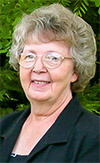 Willa E. Moore died on Jan. 3, 2023 at her home in Hermiston at the age of 83.
She was born on Sept. 10, 1939 in Belvidere, Tenn. to William and Viola Quarles.
Willa's family settled in Hermiston in 1951. She married Hal Dean Moore on June 8, 1957 and graduated from Hermiston High School in the class of 1958. Willa began working at the Good Samaritan Nursing Home in the kitchen, working her way up to a ward clerk, and eventually retiring in 1999.
She was a member of the Church of God of Prophecy and attended Zeal Church. Willa enjoyed being outdoors, whether it was gardening or just going for a drive with her sisters. She was an amazing baker and had the best pie crust you'd ever tasted. She was a fantastic cook; she loved to cook for her family but is known for her cooking at church camp when her kids were growing up and then their kids. Her fried chicken was out of this world! She enjoyed DYI projects, sewing, playing the piano and guitar, traveling (especially to the Oregon coast), and most of all spending time with her family. She will be missed immensely and honored forever.
She is survived by her sons, Terry Dean Moore of Portland and Hal Rae Moore, also of Portland; daughters, Deana Dedera of Hermiston and Tandi Bicknell, also of Hermiston; sisters, Barbara Bowling of Hermiston and Dorothy Loveland, also of Hermiston; six granddaughters; nine great-grandchildren; and numerous nieces and nephews.
Willa was preceded in death by her husband, Hal Moore; her parents; and her brothers, George, Charles, Paul and Earl.
A funeral service will be held on Monday, Jan. 16, 2023 at 10 a.m. at Burns Mortuary Chapel, Hermiston.
Burial will follow at the Hermiston Cemetery.
Those who wish to make contributions in Willa's memory can do so by donating to the research efforts for type 1 diabetes at jdrf.org.
Please share memories of Willa with her family at burnsmortuaryhermiston.com.
Burns Mortuary of Hermiston is in care of arrangements.