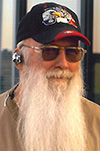 William Raymond "Willie" Webster, formerly of Umatilla, passed away on March 16, 2019 near Echo at the age of 68.
He was born on April 28, 1950 in Winchester, Va. to Alex and Elsie Smith Webster.
Willie attended Jefferson High School in Charles Town, W.V., graduating in 1968. After high school, he served in the U.S. Marine Corps for seven years. After his honorable discharge, he began his career as a machinist with the Union Pacific Railroad in North Platte, Neb. He moved to Umatilla in the mid-1990s and worked as a machinist and later as a machinist foreman at the Hinkle division.
Willie married Betty Matteson in 1971, and from this union two children were born, William Jr. and Samantha. The couple later divorced. He later married Leona Garner, and from this union Raymond and Amber were born. The couple divorced many years later. He married Sandee Smith in the mid-1990s in Nebraska.
Willie enjoyed riding his Harley Davidson motorcycle, tinkering in his garage, telling stories and traveling with his wife Sandee. He was a member of the American Legion Post #37 and the V.F.W. Post #4750 of Hermiston. He was a compassionate person who would stop to help someone in need.
He is survived by his wife, Sandee; son, William R. Webster Jr. of Papillion, Neb.; daughter, Samantha Kimsey of Papillion, Neb.; son, Raymond Webster of North Platte, Neb.; daughter, Amber (Mitch) Tatman of Stapleton, Neb.; stepson, Brian Morris of Seattle, Wash.; grandchildren, Hannah, Madison and Charlotte Kimsey, Abilene, Dalton and Raymond Tatman, and Micayla Morris; brothers, Eddie Webster of Winchester, Va., Gerald (Rhonda) Webster of
Sumter, S.C.; sister, Patricia (Barry) Schultz of Martinsburg, W.V.; and many nieces, nephews and extended family members.
He was preceded in death by his parents; brother, Carl; and son-in-law, Scott.
A graveside service will be held at 2 p.m. on Friday, March 29, 2019 at the Hermiston Cemetery.
To leave an online condolence for the family, please go to burnsmortuaryhermiston.com.
Burns Mortuary of Hermiston is in care of arrangements.