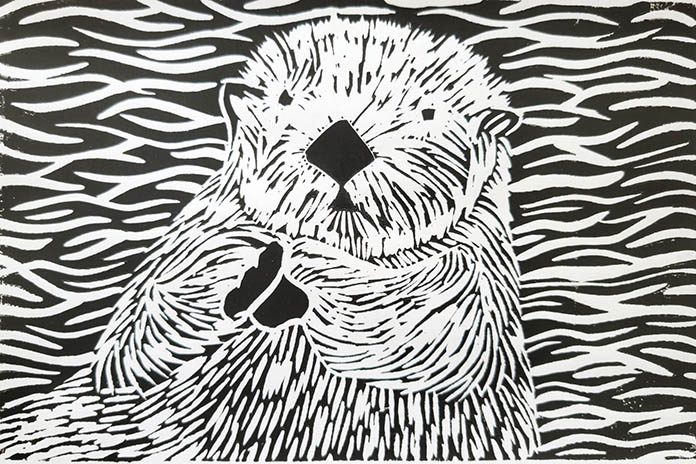 A chance encounter with a new art form inspired local artist Marie Pratuch to add a new medium to her creative repertoire.
Pratuch is known for her pottery work, which is made in the Alice Fossatti Ceramics Studio at the Pendleton Center for the Arts and sold at shops in the region. A year ago she dropped in to PCA's free Hip & Handmade class, where students were learning about relief printing.
"There was just something about the process that intrigued me, the way I had to think in reverse, like a photo negative," she said. "I had to figure out what to carve and what to leave in order to get a specific desired result."
In relief printing, wood blocks, linoleum, or Safety Kut, a material that looks like a huge eraser, is carved with specialized, v-shaped knives. The area that remains un-cut is rolled up with ink, which is then transferred to paper, often by hand or by using a tool, like a wooden spoon.
Pratuch's first experiments made it clear she had a knack for the medium, so she invested in printmaking supplies, and augmented her independent investigation with a trip to Portland to take a class put on by the Oregon Society of Artists. After showing new prints to the PCA staff, she was invited to show a body of prints in the East Oregonian Gallery, alongside the Art of the Gift exhibit.
Pratuch finds the act of carving printing blocks from large slabs of material to be cathartic.
"I have to keep the desired result pictured in my mind," she said. "There's a direct connection between my brain and my hands, leaving very little room or space for the outside world. The connection allows me to forget life momentarily, allowing my thinking and breathing to slow down, resulting in a lowering of my stress levels"
Pratuch now works in both ceramics and printmaking, switching from medium to medium, sometimes in a single day.
"When I have access to the Alice Fossatti Studio at PCA I can use clay to focus my thoughts and my creativity," said Pratuch. "However my brain doesn't turn off when the PCA doors close, so block carving has become a way for me to keep my brain busy when I'm at home or on vacation."
Pratuch says she appreciates the differences between pottery and printmaking.
"Wheel thrown pottery is very forgiving, I can be spontaneously creative as the lump of clay turns on the wheel," she said. "No two pieces of my pottery will come out the same, even if I tried."
In contrast, Pratuch has to be precise in carving printmaking blocks and transferring the ink to paper. She follows a specific set of steps to make all the prints in an edition identical.
The prints on display grew out of her love of the Oregon Coast, a place she's visited since she was a child.
"I find inspiration and peace in the smell of the salty air, the feel of the sand under my feet, and the abundance of wildlife found wherever I go," she said. "My prints are composites, created from pictures and memories that I've collected over the years."
Pratuch hopes visitors to the gallery will find something in her work that triggers a memory of a special place or experience that they've had, "where the waves meet the shore."
Marie Pratuch: New Prints will open Friday, Nov. 25 with an opening party from 5:30-7:30 p.m. and be on view through Dec. 31. Admission to the gallery is free and open to the public 10 a.m. to 4 p.m. Tuesday through Friday and Saturdays noon to 4 p.m. The event is made possible through the support of CHI St. Anthony Hospital. More information is available online at PendletonArts.org or by calling 541-278-9201.