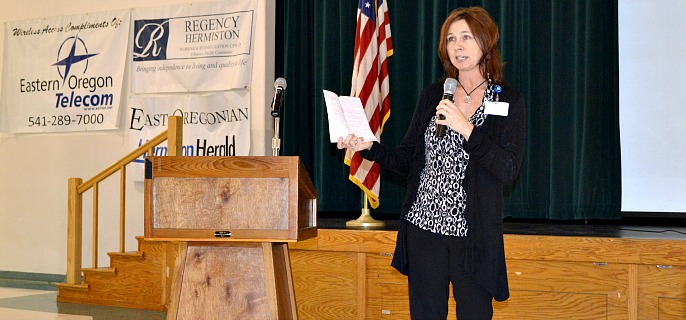 Every time an employee stays home sick, there's an associated cost to the employer. But businesses can implement simple work-place policies to help reduce the cost of employee absenteeism due to illness.
A healthy workplace environment was the topic of the Hermiston Chamber of Commerce's monthly luncheon on Tuesday. The featured speakers were Janet Jones of the Umatilla County Health Department and Juli Gregory and Amy Conner of Good Shepherd Medical Center.
Employees spend half their waking hours at work, so it makes sense for businesses to encourage healthy lifestyles among their employees and help foster health workplaces at their businesses, Jones said.
Jones said one simple step businesses can take to make the workplace healthier for everyone is to implement strong non-smoking policies.
"Tobacco is the leading preventable cause of death in Umatilla County," she said. "Each year, 163 people in Umatilla County die from tobacco."
Umatilla County recently became the sixth county in the state to ban tobacco use on all county property.
And while it is ultimately the employee's responsibility to develop their own personal healthy lifestyle practices, employers can help them maintain those habits by creating a health-friendly environment, said Jones.
"Develop a supportive environment for your employees," she said. "You don't have to have doughnuts sitting out during meetings."
Employers can also encourage their staff members to take advantage of health assessments offered by Good Shepherd Medical Center. Amy Conner, wellness coordinator at Good Shepherd, said the hospital offers a number of low-cost assessments that employers can either pay for or share in the cost with their employees. For $40, individuals can take part in a three-step process to better health, said Conner.
The first step involves a fasting blood draw that will measure your total cholesterol, along with your HDL and LDL levels, as well as your triglycerides and glucose levels. The second step is to make an individual wellness appointment with Conner during which she will review your blood work, take your blood pressure and do a body composition analysis to determine your body fat percentage.
The third step is to develop personal health and fitness goals and an action plan to achieve them.
There's also a state website that offers free assessments, guides, policies and success stories for worksite wellness.
For more information, contact Conner at 541-667-3400, ext. 3050 or the Umatilla County Health Department at 541-278-5432 or 541-567-3113.
More Stories from Northeast Oregon Now:
Small Lifestyle Changes Can Make Big Difference
Altrusans Take on Diaper Duty for Peruvians
Hermiston District Earns Honor for Music Education