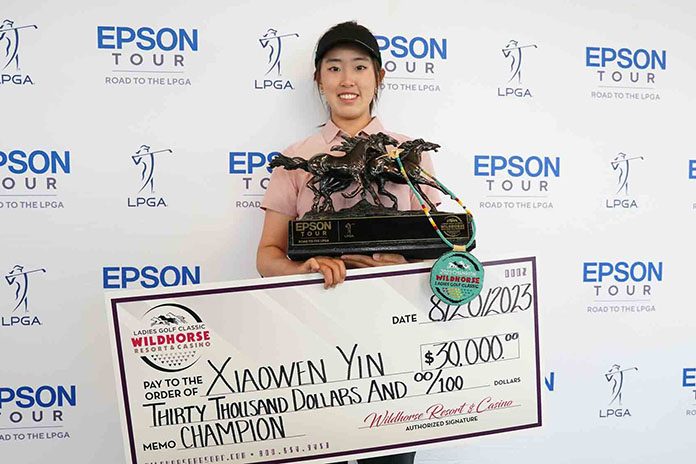 After a shortened tournament due to hazardous air quality conditions, Xiaowen Yin was presented with the championship trophy for the Wildhorse Ladies Golf Classic at Wildhorse Resort & Casino near Pendleton.
In light of the prevailing and alarming levels of smoke that have enveloped the region, the final round for the Wildhorse Ladies Golf Classic, the 16th tournament on the Epson Tour, was canceled today. The decision was made with the utmost concern for the health and well-being of players, staff, volunteers, and attendees.
Having completed 36 holes of exciting competition, Xiaowen Yin was awarded the championship trophy and a distinguished Native American beaded medallion during an award ceremony held at Wildhorse Golf Course. This recognition aptly celebrates her outstanding performance throughout the two-day event.
Playing in challenging weather conditions, Yin won the tournament with an impressive 12-under par after 36 holes. Yin scored 66 on both days, going into the final round with a three-shot lead and a healthy sense of confidence.
Yin, 18, played in the Wildhorse Ladies Golf Classic last year, tying for third place. She was the youngest player on the Epson Tour at the time.
The air quality index for the area, exceeding 330, has created an environment categorized as "Hazardous" according to LPGA AQI guidelines. In adherence to these guidelines, the rounds were necessitated to be either delayed, suspended, or, as regretfully was the case, canceled. This challenging decision was made following careful consultation and deliberation by the LPGA Rules Committee.
Despite tentative hopes of resuming play tomorrow, the forecast does not show significant improvement in air quality that is required for the safe continuation of the tournament.
"The safety of our athletes, volunteers, and staff is of the utmost importance," said Epson Tour Chief Business and Operations Officer Jody Brothers. "I'm disappointed for the athletes, our tremendous sponsor Wildhorse Resort & Casino, and the fans who were here to see an exciting finish."