Thanks to a grant from the Wildhorse Foundation, the Hermiston Police Department (HPD) will have 17 new life-saving devices.
A $10,000 grant from the foundation will help pay for 17 automatic external defibrillators (AED).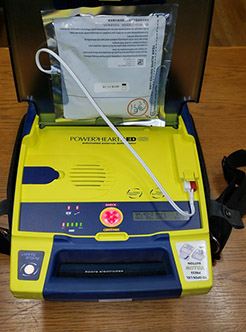 In 2015, HPD patrol officers began carrying AEDs in their vehicles. An AED is a device used when a person goes into cardiac arrest. The AED administers an electric shock through the chest wall to the heart. The device has built-in computers that assess the victim's heart rhythm, judge whether defibrillation is needed, and then administer the shock. Audible and/or visual prompts guide the user through the process.
"We are incredibly blessed to live in an area where foundations such as that of the Wildhorse exist," said HPD Chief Jason Edmiston.
The department's first seven AEDs were purchased partially with grant money from the Good Shepherd Health Foundation, and the remaining amount from the department budget. Edmiston said what the new Wildhorse Foundation grant doesn't cover will also be covered by the HPD budget.
Edmiston said with the foundation grant money, all detective vehicles as well as patrol vehicles will be outfitted with the devices.