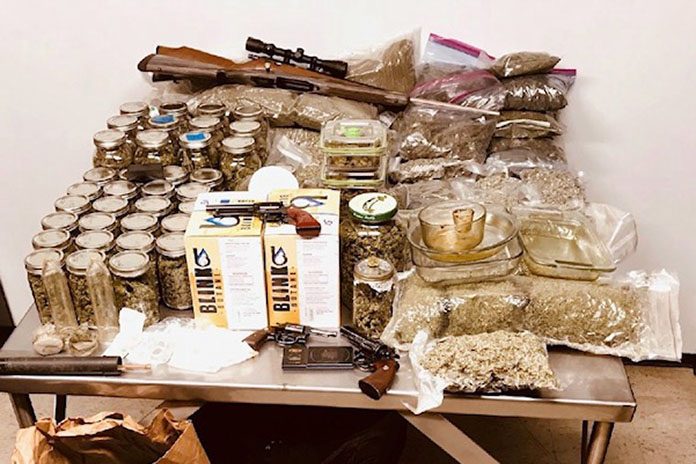 A Hermiston man is in jail today and faces multiple charges after police discovered more than 75 pounds of marijuana and several guns in an apartment in town.

The arrest follows an attempt by a Hermiston police officer to pull over a driver for a traffic violation around 1 a.m. Wednesday near the intersection of South First Street and West Highland Avenue. The driver, later identified as William Richard Rhoades, failed to stop and the officer began a short pursuit before losing sight of the vehicle.
With the help of the Oregon State Police, Hermiston officers found the car on S.W. 16th Street where it had crashed into a house after hitting an electrical supply box. HPD said there were no injuries, but Rhoades had fled the area.
Inside the vehicle, officers found a handgun and identification card. Officers gathered information from various sources before speaking with the person whose identification was found. Their investigation ultimately led them to 1630 W. Sunland Ave,, apartment B8, where they found Rhoades, 27, of Hermiston, who officers believe was the driver of the vehicle. The identification card in the vehicle belonged to an associate of Rhoades, who was not involved in the chase.
In the apartment, officers also found over 75 pounds of marijuana, along with evidence of illegal marijuana sales such as packaging material, scales, and paraphernalia associated with a clandestine butane honey oil laboratory. Hermiston Police Department Chief Jason Edmiston said butane honey oil is a product made from marijuana extract through a highly volatile process, which often results in large explosions. In addition to the handgun seized from the car, officers seized two rifles and two handguns from the apartment, one of which had previously been reported stolen.
Rhoades was lodged at the Umatilla County Jail in Pendleton. He has been charged with attempting to elude a police officer, reckless driving, hit and run, first-degree theft, unlawful possession, delivery, and manufacturing of marijuana, and felon in possession of a firearm. He was also arrested on an unrelated warrant, charging him with failing to appear in court.
"Police work involves multiple facets with traffic enforcement being just one of those," Edmiston said. "Here we have a person who commits a traffic violation and then a traffic crime by eluding. The tenacity of our officers and the assistance of our partner agencies should give some solace to people knowing there are women and men who wear the uniform and work throughout the night to hold criminals accountable. Though Oregon has decriminalized marijuana, the amounts of marijuana being sold on the black market continues to be staggering as evidenced by this seizure."