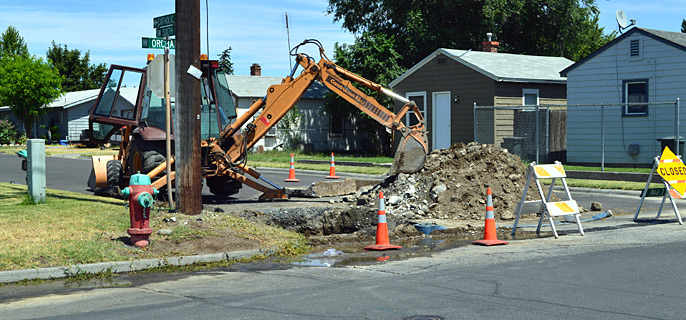 The water department crew for the city of Hermiston is busy replacing water valves along Orchard Avenue.
Roy Bicknell, water superintendent for the city of Hermiston, said workers are replacing four mainline water valves. The work is related to the construction of the new West Park Elementary School, said Bicknell. The school needed its water supply in different locations, as well as different-sized water services, he said.
"Water services from the old hospital and the old school that were no longer useable had been turned off and scheduled for abandonment," Bicknell said on Wednesday. That work, however, had to be re-scheduled when the water department discovered that some of the valves needed to isolate the area were faulty. In addition, working around the school's schedule and summertime events pushed the work project into summer.
The overall project involves replacing the four mainline water valves which will allow for the abandonment of the old water services.
"Some of the plumbing being removed is 70 years old," Bicknell said. The new plumbing being installed is expected to provide years of continued service, he said.
"We really appreciate the cooperation of the residents and businesses affected," he said. Bicknell added that most of the work should be completed before the Umatilla County Fair Parade on Aug. 3