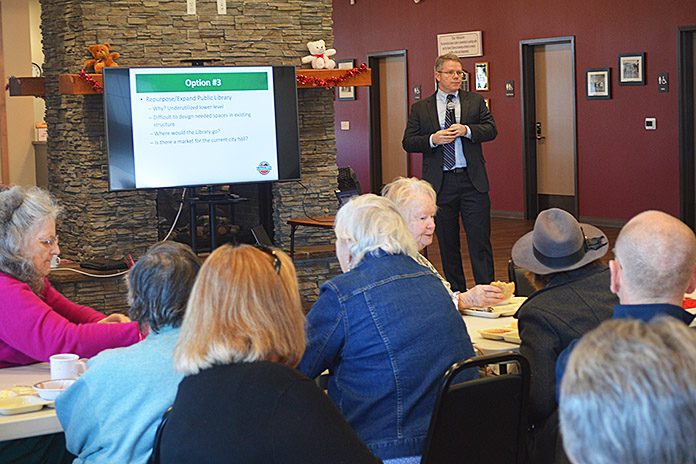 Two informational forums on the future of Hermiston City Hall were set for today with the first session taking place before more than four dozen people at the Harkenrider Senior Center.
Hermiston City Manager Byron Smith outlined the various options facing the city following the December fire that caused extensive smoke damage to the building.
Among the options presented at Tuesday's forum were the following:
Renovate/expand the current city hall
Rebuild a larger replacement building on the current city hall site
Repurpose/expand on the current library
Sell the current city hall and renovate the Hermiston Community Center
Sell the current city hall and build a replacement building on vacant land
The options all fall within about 10 percent of each other in terms of cost and each has its own benefits and drawbacks, said Smith.
Smith said a current design for a new city hall is in its early stages with cost estimates of around $9 million. Insurance money will cover just a fraction of that cost with the majority of it coming from Enterprise Zone funds the city will be receiving from Amazon and Lamb Weston. The city and Umatilla County will be splitting $1 million from Lamb Weston annually for the next 15 years, and $2 million annual from Amazon. Smith said the city would take out a loan to pay for the new city hall and repay the loan with the money coming from Amazon and Lamb Weston.
"There will be no new taxes or any money taken from the general fund to pay for the new city hall," Smith told the crowd on Tuesday. Smith also said there are discussions with another government agency about sharing the space and costs of a new city hall. Smith wouldn't say, however, what agency.
One person questioned the wisdom of spending money a new building when the Harkenrider Senior Center still has an unfinished basement. Others wanted to know if they residents would be able to vote on the final decision.
"We have a representative government," Smith said. "You elect people to make decisions for you. If you don't like the decisions, vote for someone else."
The early design of the new city hall calls for a 22,000-square-foot building, compared to the currently city hall's 9,000 square feet.
The city council is expected to make a determination about this plan at its regular meeting at 7 p.m. on Feb. 24.
A second informational session is set for 6 p.m. tonight at the Hermiston Public Library.