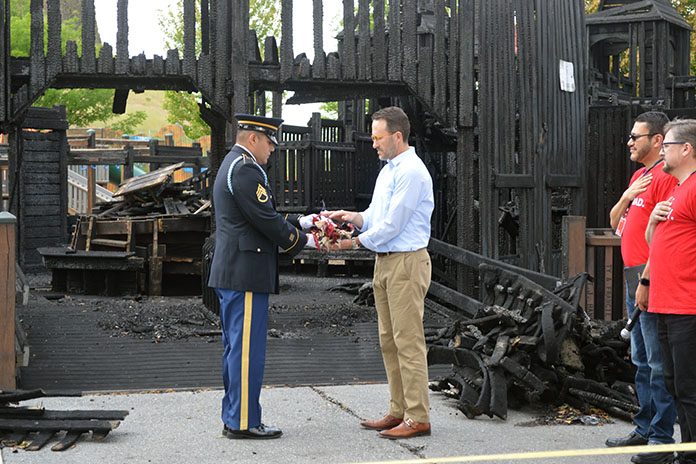 In a ceremony that was both somber and hopeful, the Hermiston community came together on Sunday to remember Funland Playground and to pledge to rebuild it bigger and better than before.
About five dozen people turned up Sunday afternoon at the site where the community-built playground now sits in ashes after it was charred in a fire in the early-morning hours of May 10.
"Today we're looking beyond the ashes to rebuild, restore and we are looking forward to a new day," said Pastor Terry Haight.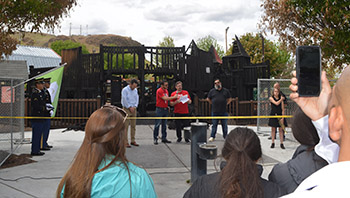 Haight was one of several pastors at Sunday's ceremony. Also on hand was Pastor Mel Swartz, and Pastor Hector Ramirez translated Sunday's ceremony in Spanish. Hermiston Mayor Dave Drotzmann paid special thanks to the faith-based community on Sunday for spearheading the effort to rebuild the playground.
"It isn't the city that's leading the charge," he said. "It's the community and specifically the faith-based community."
Drotzmann noted this was the second time Funland was destroyed in a fire. The playground, built in 1995, was burned down in July 2001. No arrests were made in that case. No arrests have been made in this fire, as well, nor has it been officially ruled an act of arson.
The city of Hermiston is forming a committee of eight to nine volunteers to oversee the playground rebuild, including design and budget. The first meeting is expected to take place in July. To apply for a seat on the committee, visit the city's website and click "Announcements."
The mayor noted that the community rallied to rebuild the park 18 years ago and said the community will pull together once more.
"Funland, to me, has always been the heart of Hermiston," he said. "We will rebuild the park from the ashes and make it a better park and a better future for our children."
Toward the end of the ceremony, 14-year-old Elizabeth Doherty played Taps on trumpet as members of the National Guard gave Mayor Drotzmann the charred remains of the American flag that flew at the park. Moments later, a new flag rose in the old flag's place to the applause of the crowd.