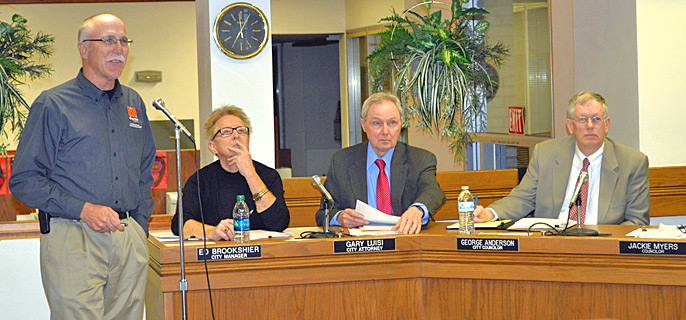 The Oregon State University's Hermiston Agricultural Research & Extension Center (HAREC) grows and irrigates more than 200 crops and has more research acreage under center pivot irrigation than any experiment station in the Pacific Northwest.
That acreage – around 500,000 acres – will soon be expanded after the Hermiston City Council voted to annex 168.2 acres of land into the city limits Monday night. The land, on HAREC property, will allow the center to purchase water from the Regional Water System to irrigate more land for research purposes.
Before Monday's vote, HAREC Director Phil Hamm gave a brief overview of the center and the work it does on behalf of the area's irrigators.
"I suspect we're one of the oldest businesses in Hermiston," said Hamm. The research center was first established in 1909 and operates on a $2 million annual budget. One of its key missions is to identify adapted crops and develop production practices for the region. And while Idaho is famous for its potato production, Hamm said Idaho's potato yield per acre is about half Eastern Oregon's.
"There's no other place in the world that can outcompete us," Hamm said.
Now that HAREC's 168.2 acres of land has been annexed into the city, the experiment station will have access to water from the Regional Water System for at least five years to irrigate crops on the property. Revenue from the water delivered to the experiment station will help offset the $1.25 million cost of extending the water line to the property.
"The value that OSU Extension brings to the area can't be measured by the $2 million budget it has," said Mayor Dave Drotzmann. "We're an agricultural community, and we need to do everything we can to support it."