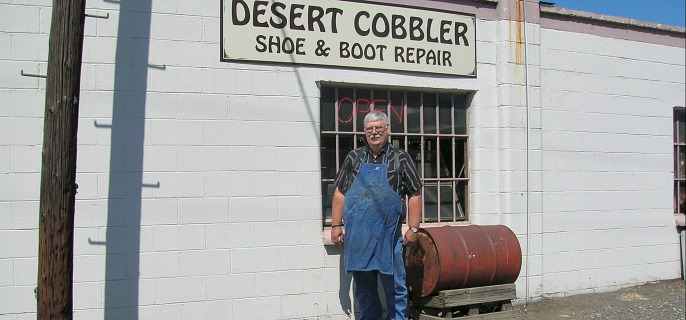 These days, when more and more products are becoming disposable, shoe repair shops are becoming less common. However, this change in society has not stumped Dale Platt, owner of Desert Cobbler Shoe & Boot Repair in Hermiston.
Platt has run Desert Cobbler at its current location, 120 Northeast Third St., for almost 40 years.
"When I first came down here, it was strictly shoe repair," he said. "People started coming in and wanting this done or that done, and I started doing it."
Now, in addition to repairing leather shoes, Platt makes leather wallets, purses, belts, holsters, knife sheaths, sheaths for Leatherman tools, and even cell phone cases. He also makes tack by hand.
Other than having his three kids come into the shop to help when they were younger, Platt has run the business on his own.
He had not anticipated making a career out of leatherwork.
"I was going to school to do agriculture and ran out of money," he said. He began working at a shoe repair business in Pendleton.
"They said that they would hire me if I was willing to be trained and find a shop. It was a few months later that this one came up for sale."
Platt has heard that the building began as a chiropractor's office and then became a shoe repair shop.
"(All of the previous owners) stayed around about 10 years, and then they left and did something different — until I come along. I took it over Feb. 22 of '77."
Desert Cobbler is the only shoe and boot repair business in the Hermiston area. Platt says that his repeat customers are what keep his shop going.
The biggest challenge that he has faced in his business is "the change in the way things are put together and made today," which makes it difficult to repair certain shoes and boots.
"Foreign trade is another big (challenge)," he said.
Despite the difficulties of a "throw-away society", Platt continues to bring quality leather goods and repair services to the community.
Desert Cobbler is open weekdays from 7:30 a.m. to 5:30 p.m. and Saturdays from 9 a.m. to noon. Visit the shop or call 541-567-2008.
More Stories from Northeast Oregon Now:
Ed Brookshier Ready to Turn the Page
No West Nile Virus in Hermiston (So Far)
Oregon Counties Rank High Nationwide in Ag Production