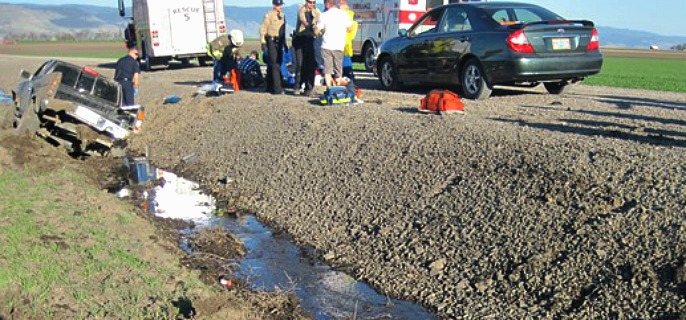 Oregon State Police (OSP) troopers in La Grande are continuing to investigate Saturday afternoon's fatal traffic crash that resulted in the death of one occupant, serious injury to three others and injury to the driver who now faces criminal charges.
Preliminary information from investigators indicates that on Saturday, at about 5:47 p.m., a black Nissan pickup, being driven by Brandon C. Halleck, 27, of La Grande, crashed into a ditch and killed one person and injured four other occupants.
According to OSP Sgt. Kyle Hove, Halleck was driving in a reckless manner with three unrestrained occupants in the bed when he crashed. Two juveniles riding in the bed were injured and the third adult occupant, identified as Jacob R. Yeates, 23, of La Grande, was pronounced dead at the scene. Five people total were riding in the pickup, three in the bed, one in the cab and the driver, at the time of the crash.
The driver was lodged on charges of first-degree manslaughter first-degree assault, felony DUII, reckless driving and three counts of reckless endangeringHe was lodged in the Union County Jail.
OSP was assisted at the scene by the Union County Sheriff's Office, La Grande Police Department, Island City Rural Fire Department and the La Grande Fire Department.