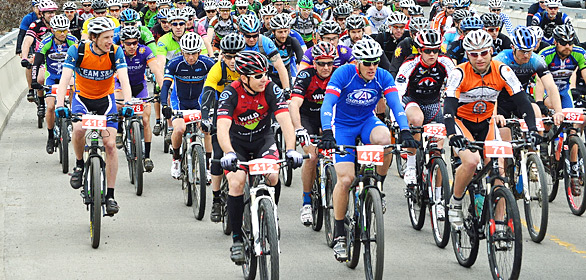 Echo's population may only be 708, but it will nearly double this Saturday when 500 or so bicyclists come to town for the sixth annual Red 2 Red Cross Country Mountain Bike Race.
The race, which is an Oregon Bicycle Racing Association-sanctioned event, has grown in size each year since its inception in 2009 when 175 participants entered the race. The event is organized by Stephanie and Shayne Myers, owners of Echo Bike and Board.
"At the beginning, it was just me and Shayne, but now there are so many sponsors and volunteers that make this whole thing possible," Stephanie Myers said. The race includes three options – 15, 24 or 32 miles – with lunch provided if you pre-register by today. Participants, however, can register for the bike race all the way up to the morning of March 1, the day of the race.
The race routes have been praised for eye-catching sights as they cut across the top of a cliff and overlook the Umatilla River.
And, said Myers, the race has far-reaching benefits.
"It's not only Echo who benefits from this, but also Hermiston for their hotels and Stanfield for their attractions. This race helps people learn all the great things about Eastern Oregon," Myers said.
There will also be a poker night benefit this Sunday as well, with proceeds will going to the Echo Food Pantry.
"There are so many nonprofit organizations that benefit from this event which makes this even more special," Myers said.
The weekend kicks off Saturday morning at 8 a.m., with a breakfast and then the first race starts at 11 a.m. For more information, visit the Red 2 Red website.
More Stories From Northeast Oregon Now:
Oakridge Boys, Phil Vassar to Appear at County Fair
Commissioners Pay Visit to Hispanic Committee Meeting
So, This Is What a Safe Full of Pot Looks Like