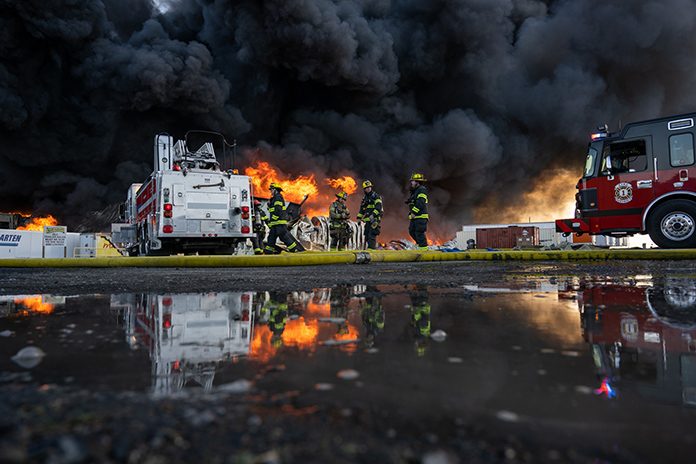 An explosion at Shearer's Foods Tuesday afternoon sent several people to the hospital and closed down roads leading to the fire on Highway 207.
The Umatilla County Fire District #1 said the explosion resulted in the "largest fire our district has seen in the last decade."
According to the Umatilla County Sheriff's Office, employees of Shearer's Foods called 911 and reported a boiler explosion with possible injuries. Medical and fire units were dispatched and law enforcement agencies are assisting on the scene as well. Union Pacific Railroad was notified to close down traffic on the nearby rail line.
Caitlin Cozad, communications director for Good Shepherd Health Care System, said the hospital has treated seven patients who were at Shearer's Foods at the time of the explosion.  Cozad said all seven are in stable or fair condition.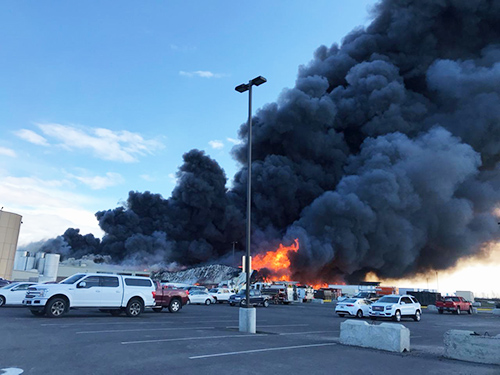 The Oregon Department of Transportation was notified for closure of access on Highway 207 from Interstate 84 and Feedville Road. Nearby residences south of the incident, including Panel View RV Park and occupants at the Space Age and Comfort Inn have been placed on standby for possible evacuation due to air quality from the smoke plume.
Shearer's Foods is one of the largest potato chip and snack food manufacturers in the region.
Currently the plume is at a high enough altitude that there is not a need for evacuation yet due to visibility or air quality.
Law enforcement is asking the public to avoid the area at this time. The fire is ongoing.
Among the agencies responding to the fire were Umatilla County Fire District #1, Umatilla County Sheriff's Office, Oregon State Police, Hermiston Police Department, Stanfield Police Department, Umatilla County Emergency Management, Oregon Department of Transportation and Union Pacific Railroad.