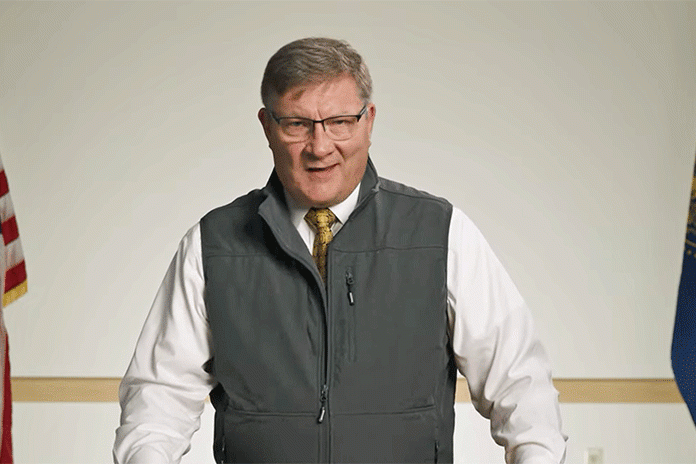 Good Shepherd Health Care System President & CEO Brian Sims highlighted the growth and accomplishments of the past year during the hospital's fifth annual Community Meeting on Wednesday night.
"It is amazing what our health care system can accomplish in one years' time," said Sims. "The positive impacts we have made and the adversities we continue to overcome are credited to our 750 employees who put our patients and each other first – always."
Patient satisfaction is of the highest importance, said Sims, pointing out that from March to May of this year, Good Shepherd received top rankings from its summary report scores measuring patient satisfaction. During that three-month span, Good Shepherd hit the 95th percentile in patient satisfaction for all reporting Oregon hospitals. Good Shepherd hit 93rd percentile for all reporting hospitals in Oregon, Washington, and Idaho. Nationally, Good Shepherd was in the 89th percentile for patient satisfaction.
(SEE ALSO: Pandemic Creates Challenges for Mental Health Industry)
Sims said Good Shepherd continues to invest in its staff.
"Our administration strives to take care of our employees so they can take care of you," he said. In the past year, Good Shepherd implemented a Resilience Education and Peer Support Program to help staff meet the demands of the pandemic and support them with mental health guidance.
Also, under direction of chaplain Kirk Ruehl, the hospital created a Soul Care Program that unites local ministers and stakeholders in the patient care provided at Good Shepherd.
"It is our belief that health care, well care and soul care is total care," he said.
Good Shepherd has also added two family nurse practitioners to the staff – Kaila Sullivan and Joanne Lewis, and welcomed new OB/GYN Dr. Alexis Tuck.
"As the community we serve grows, so must our facilities," said Sims. "Good Shepherd is expanding our footprint to better serve this great community. In June, we closed on the land that was formerly Rogers Toyota with plans to build a new state-of-the-art Urgent Care facility at the Highway 395 location.
"Additionally, we have made multiple campus-wide improvements this past year including remodeling our Critical Care unit, operational updates to our emergency department, flooring upgrades, and laid out plans to move most of our outpatient clinics to our Medical Plaza.
"Each of these improvements to our infrastructure positively impacts our patients' experience."
Good Shepherd has invested in new technology to better serve its patients. This past spring, the hospital added a new da Vinci robot to its surgical services department. Sims said the robot allows surgeons to perform complex surgeries with very few and very small incisions.
"Abdominal surgeries with the robot are typically less painful and more precise, resulting in shorter hospital stays and a faster return to life and work," said Sims.
Also new to Good Shepherd is a Mako surgical robot that has the ability to measure and shape tiny areas of bones for joint-replacement procedures allowing patients to return to an active life.
Sims said giving back to the community is a top priority for Good Shepherd. In the past year, the Good Shepherd Community Health Foundation gave out $270,000 in grants and funds and awarded $92,000 in medical scholarships to 34 local students attending 21 various colleges and universities.
The annual Scramble for Scholarships golf tournament raised over $33,000 for medical scholarships and the Festival of Trees returned last December and raised over $68,000.
Good Shepherd's CareVan provided more than 1,400 medication deliveries and transported nearly 8,000 patients to and from appointments. The hospital also welcomed back its 40 Auxiliary members and re-opened the Gift Shop. The Auxiliary gave out four medical scholarships to local students totaling $8,000. On top of that, Good Shepherd provided more than $9 million for those in need, but who could not afford the cost of medical care.
"Our commitment is to ensure that our patients and families feel just a little better going out the door than when they came in," said Sims.