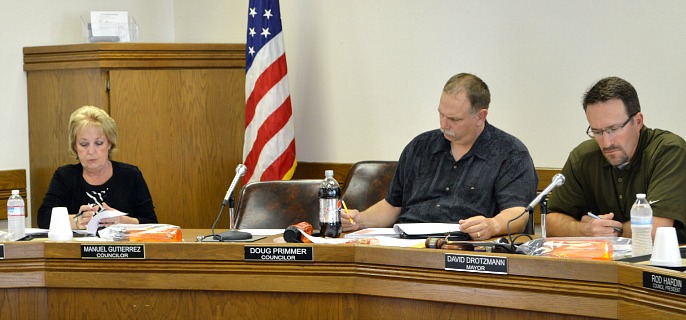 The Hermiston City Council voted unanimously Monday night to offer the city manager job to Byron Smith.
The selection of the current Fort Madison, Iowa city manager ends a process that began back in November with the council choosing a firm to conduct a nationwide search. The process included public forums, extensive interviews and background checks before the potential list was whittled down to four finalists who visited Hermiston last week for a public reception and another series of interviews with the council.
The months-long search ended quickly at the conclusion of Monday's meeting with the 7-0 vote to offer Smith a contract to serve as the city manager.
"I was very impressed with how the process went," said council member John Kirwan.
"We're excited to move on to the next step," Hermiston Mayor Dave Drotzmann said. "It's nice to come to a conclusion."

Smith, 44, is expected to assume his new duties in August. Current Hermiston City Manager Ed Brookshier will then step down, but has agreed to consult and advise the new city manager over the next few months to make the transition as smooth as possible.
Since 2009, Smith has been the city manager in Ford Madison, population 11,000. Prior to that he served for three years as assistant city manager and city planner for Poplar Bluff, Mo., and was with the League of Arizona Cities and Towns, in Phoenix from 1998 to 2004. Smith has a master's degree in public administration from the University of Kansas, a bachelor of science degree in business management from Brigham Young University, and an associate of arts degree in business administration from Eastern Arizona College.
"It's exciting to look forward to the future, because I think we have a good one in Mr. Smith," said Drotzmann. "His broad experience with many different types of cities, as well as his experience with cities similar to Hermiston make him a great fit to continue our area's growth well in to the future."
During his visit to Hermiston last week, Smith said he impressed with the city's economic growth and its culture of diversity.
"I hope that I have the chance to improve on the great things that have been going on here in the city of Hermiston," Smith said last week. "As I've been researching the community, there are many things that are going in a great direction. And continuing to build the economic base here and move forward in this community would be an exciting opportunity."
Smith said he was strongly attracted to Hermiston because of what he saw of the community's approach to diversity.
"I grew up in southeast Arizona, where we had a diverse community, where we worked together trying to accomplish things across difficult lines — religious, ethnic, those types of things — and I was really excited to see that Hermiston wants to continue to do that. I want my children to see that as they grow up and have that opportunity that I did."
Smith and his wife, Kim, have five children ranging in age from 2 to 11.
More Stories from Northeast Oregon Now:
Authorities Recover Minor is Sex Trafficking Sting
Council Race Recount Doesn't Change Result
Fight Leads to Arrest of 3 People