The Hermiston Police Department responded online Thursday to social media posts centering around two teenagers who were arrested last week at Hermiston High School.
"As we often must spend time correcting inaccurate information on social media, the following is/are the facts of a recent arrest/detainment involving a couple of high school students," wrote HPD Chief Jason Edmiston on the HPD Facebook page.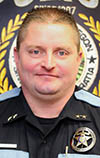 Edmiston noted that around 4 p.m. on Thursday, Aug. 26, HPD officers were called to the 200 block of N.W. 11th Street for a report of several males fighting. Officers spoke with two potential victims, but the other males fled before the police arrived.
Following an investigation, Edmiston said all persons involved were identified.
"Due to an escalation of criminal behavior for the (3) suspects, a decision was made to contact the males at the Hermiston High School," wrote Edmiston on the Facebook post. "On the 31st of August, 2021, (2) of the males, a 16-year-old and a 17-year-old were contacted at the high school and taken into custody."
Edmiston said that once at the Hermiston Police Department, officers found a small caliber firearm concealed on the 16-year-old. Both males were charged with third-degree assault and the 16-year-old was charged with unlawful possession of a firearm. Both males were lodged with the juvenile department.
"Typically, when an investigation does not have a nexus to a school, we refrain from interrupting the school day," wrote Edmiston. "The circumstances and increasing criminal behavior of those involved to include within this community and a surrounding community prompted us to move forward at the end of the school day and take the individuals into custody. We are still actively pursuing the third individual."