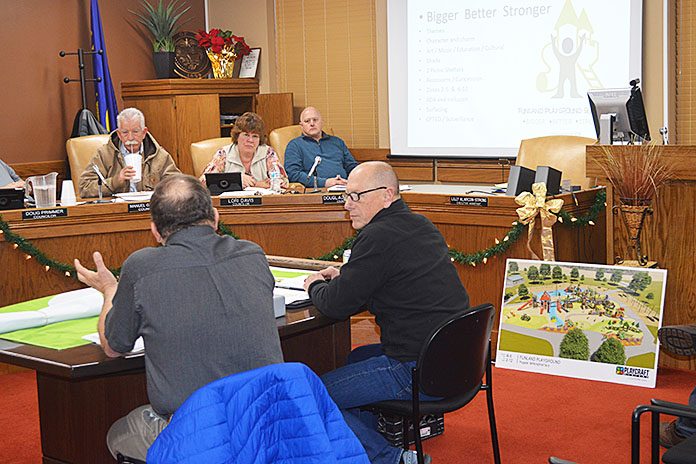 The ultimate cost of the next Funland Playground in Hermiston is unknown. The final design has yet to be determined. When it will be built and ready for fun is up in the air.
A few things, however, are certain about the project: It will be bigger, better and stronger than the previous playgrounds that were both destroyed by arson fire. And, most importantly, it will not burn down.
The Hermiston City Council gave the Funland Rebuild Taskforce the go-ahead Monday night to begin fundraising in earnest for the new playground. The council also choose to wait to see how much money will be available before approving the size and design of the playground.
Hermiston Parks and Recreation Director Larry Fetter and taskforce member Charlie Clupny presented the council with two design options and costs. The ideal playground would cost $1.5 million, while a scaled-back version would cost half that amount.
The city currently has the resources to build the smaller, less costly playground. Those resources include $700,000 in insurance money available for rebuilding. There's also another $52,000 from current fund-raising efforts and sales of new fence pickets.
But no one Monday night was pushing hard to settle for the smaller version.
"This community has a rich history of doing better than we've done before," said Mayor Dave Drotzmann. "I think it's important to take the time to build up the resources to get the kind of park we want."
Councilor Lori Davis was concerned that waiting to raise more money would likely mean the playground will not be ready in time for the Fourth of July – a targeted finishing date – and would probably not be ready until Labor Day of 2020, when summer is nearly over.
Councilor Roy Barron said sacrificing a few months of the playground's first year is a small price to pay for a playground that will last for generations.
"I think it's worth the wait to build a better playground," said Barron.
Whatever the final cost and design turns out to be, the playground will be fireproof. Unlike the previous Funlands, the new playground structures will not have any material made of wood. The previous playgrounds were all wood.
The playground will also have Disneyland-type theme areas such as Adventure, Wild West and Farmland. Featured elements could include a Native American encampment, a locomotive, wagon train, stagecoach, pirate ship with a kraken sea monster, a barn and silo with giant slides, giant fruit and vegetables, a six-foot watermelon slice, and more.
The biggest cost variable of the two proposed designs is the ground surface. Previous Funlands and just about all of Hermiston's parks use wood chips, which are relatively inexpensive but tend to get easily displaced and need constant replacing. To surface Funland with wood chips would cost $20,000.
Taskforce members, however, prefer rubberized material made from recycled tires. They are softer, absorbent, provide better cushion for tumbling children and, of course, are fire resistant. The material also comes in a variety of colors.
The drawback, however, is it would cost $336,000.
Clupny urged the council to think about the children."
"This is more than a playground," he said. "This is a tribute to our community."
Clupny also suggested adding a few children to the taskforce, who he referred to as the "end users."