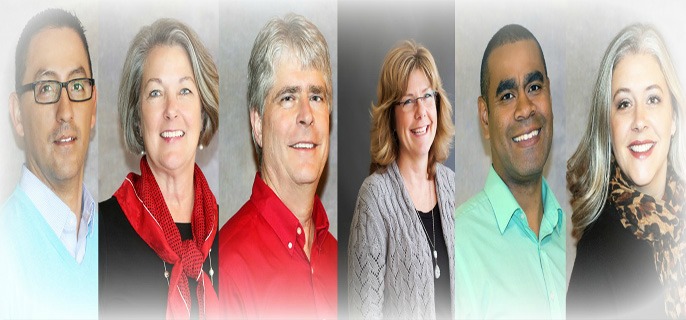 For the third year running, the Hermiston High School Auditorium will be filled with the vibrant rhythms of the rumba, disco, and jive, and a thunderous applause for our local celebrities.
"Dancing with the Hermiston Stars has become a highlight in the Desert Arts Council season," said Event Chair Mary Corp. "It's an event people eagerly await, curious to find out who will represent for Eastern Oregon Star Power, and wow the audience with their courage and confidence."
Here's a look at this year's contestants:

Cam Preus, president of Blue Mountain Community College, will raise the roof with a quick step to remember. "I'm not a half-way person on anything I do," she said. "So even though I am not sure I can dance worth a hoot (I certainly can't sing) I'll give it the 'college' try." Preus will be representing the BMCC Foundation, a scholarship fund for students in need. Preus and her family have been a part of the community for several years now.

Dan Briscoe, vice president of Apollo Mechanical, will romance us with his Argentine Tango in an effort to raise money for Vange John Memorial Hospice. Briscoe and his family have lived in Hermiston since 1991 and are happy to have raised three boys in a town with such an active community support system. Briscoe's father passed a little over a year ago. "The group at Vange John Hospice not only provided incredible care to his dad, but extended their exceptional support to our family as we went through the process with him," he said. Through "extensive training" in a ballroom dance class in college, and a lot of untapped passion and charisma Briscoe hopes to bring it home for the Hospice so they can continue to nurture and support others.

Blaine Gavnoa, athletic director of Hermiston High School, is a new face in town, but that hasn't stopped him from getting up and moving. Gavnoa will be light as a feather with some fast and fancy footwork as he tries to honor the Jive with a win for Martha's House. "I have a passion for seeing that all children have a safe place to call home, and helps there family get the support they need to be get their lives headed in a positive direction," he said.

Debbie Cissna, director of Pregnancy Care Services in Hermiston, will rumba for Pregnancy Care Services. Hermiston is a small counity, but it is a place rooted in family values and unity. Cissna plans to represent the women of Umatilla County and raise funds for those requiring medical care and emotional support when faced with an unplanned pregnancy. An Internet meme likens women to a good tea; you never know how strong they are until they are in hot water and Cissna is going to dance a blistering hot rumba to prove her point. "I chose Pregnancy Care Services as my charity because it is a life-affirming nonprofit that provides women complete and accurate information when facing an unplanned pregnancy while establishing a relationship of support regardless of her decision," she said.

Jesus (Chuy) Rome, Umatilla Morrow Head Start program manager, plans to Cha Cha for CASA, the Court Appointed Special Advocate Program, of Umatilla Morrow Head Start. "It's all about the kids. Like JFK said, they are our most valuable resource and our best hope for the future." CASA is about providing children a voice in which to be heard, Rome hopes the rhythm of his two left feet conveys his love of Hermiston and his passion for his cause. Rome grew up in Hermiston and was known as "Chuy" as a child and young adult. Now as he takes the stage for his passion of giving children a voice, he hopes that all those friends and community members who have supported and guided him over the years will come and join in the night of fun and support his cause of giving to the children of our area.

Shannon Snyder, Defining Details owner and photographer, will bust out her bell bottoms and disco for Made to Thrive, a non-profit that makes activity based resources to build self-confidence, self-worth and healthy relationships amongst vulnerable youth. Shannon hopes the iconic lyrics of "Car Wash" will have the audience moving and grooving along regardless of age. "I am excited and nervous to take the stage, but as they say if your dreams don't scare you, they aren't big enough," she said.
As in previous years, the six community members will be paired with professional dancers from the Utah Ballroom Dance Troupe in attempt to quickstep, rumba and cha cha cha their way into your hearts. Between the judges, and an interactive audience (where a $1 donation counts as one vote) the dancers hope to raise money for their selected local charities. Its foot tapping and fast paced with the winners announced at the end of the evening.
Utah Ballroom Dance Troupe, professional dancers will train local celebrities for a week and then dance with them the first half of the evening, plus following intermission – they will perform various ballroom dance routines as a troupe. A special guest performance by local children dancers choreographed by Utah Ballroom Dance Troupe opens the evening and a festive intermission will allow local celebrities to secure audience votes.
"Dancing with Hermiston Stars" performance will be at the Hermiston High School Fine Arts Auditorium. The box office opens at 6 p.m., and doors open at 6:30 p.m. Performance begins at 7 p.m. General Admission tickets are $35, and under 18 are $17.50. Tickets are available online, at the Hermiston Chamber at 541-567-6151, and the Hermiston Parks and Recreation Department. This Desert Art Council performance is available due to the generous event sponsorship of Hermiston Breakfast Kiwanis Club.