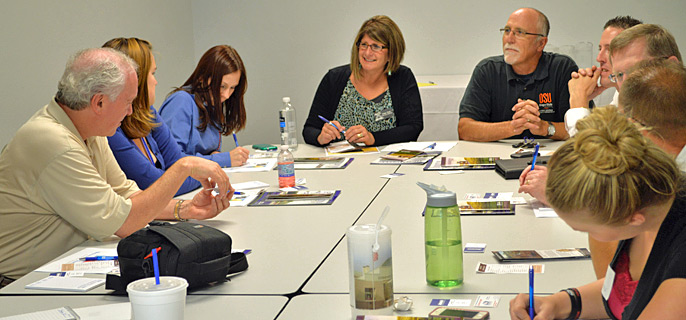 [quote style="2″]But You Really Do Have to Try – And the Chamber Is Here to Help[/quote]
Every single business owner, regardless of what product or service he or she has to offer, has one common goal – to be successful.
The odds, however, can seem stacked against success, particularly for start-ups. According to a study by the Small Business Administration, less than half of all new businesses are still operating within five years. Surviving, let alone thriving, in a business environment where competition can be stiff and the economy is less than robust can be a daunting challenge. A good business model and a willingness to work long, hard hours aren't always enough. Sometimes, like the song says, you need a little help from your friends.
One of the best friends a local business can have is the Hermiston Chamber of Commerce, whose mission is "to create and promote an environment in which current and future businesses thrive and where our members connect for the benefit of the community."
But simply becoming a member of the chamber is not enough to help a business succeed. The chamber offers a variety of services to help its members, but it's up to the individual business to take advantage of them. On Thursday, the chamber held a one-hour class, Chamber 101, which outlined the benefits it offers to its 408 members. The classes are offered semi-regularly by the chamber.
"I really believe the chamber can do a lot of things for your business," said Chamber President Phil Hamm. "But you can do a lot for yourself by taking advantage of what we offer."
But before you can take advantage of the chamber's services, you have to join, and the chamber offers six different levels of membership ranging from Bronze to Premiere. Each level comes with its own set of benefits. The biggest benefits, available to all members regardless of membership level, are the networking opportunities. The chamber holds events several times each month designed to bring business people together. These include:
• Business to Business Luncheons – Held every month, the luncheons feature guest speakers and a catered lunch. At each event a chamber member is spotlighted, new members are introduced and business cards are exchanged.
• Alive After 5 – A monthly evening event hosted at a chamber member's business. The business owner or manager has the opportunity to showcase their business and what they have to offer.
• Morning Perk – Similar to Alive After 5, but takes place in the morning.
• Ribbon Cuttings & Grand Openings – Have a new business, remodeled or re-located? This is your chance to invite the public and get the word out.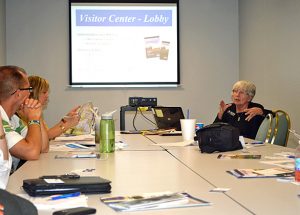 "And bring your business cards," said Marilyn Thomson, chamber membership director. Thomson said when she was in business for herself, she would go to every chamber event, pass out her cards, introduce herself and ask for everyone else's cards. She would then follow up by calling the people whose cards she received and establishing business relationships.
"In four years, I was able to sell my business and play golf every day," she said. "It really works. Let them know what you can do for them. This applies to every single business. I can't think of a single business where this wouldn't work." Hamm agreed.
"If I had a business that was selling something, I'd be at every chamber function and passing out my card," he said. "Let people know who you are and what you do."
Along with networking, the chamber offers tools to promote your business. All members can submit items about their business for publication in the chamber's electronic newsletter sent out weekly to more than 800 readers. Gold members and above can have ads placed in the e-letters. Businesses can also post information on the chamber's Facebook page that reaches more than 1,000 chamber fans.
Chamber members also get listed in the chamber's annual directory as well as its website and every new member will have their business name displayed on the chamber's reader board for one week. Chamber members can also have their promotional materials displayed in the chamber lobby.
"It's just amazing," Thomson said. "People come in and browse and leave with business cards and pamphlets."
Chamber Executive Director Debbie Pedro said that, on average, 5,000 people come into the chamber every month. That's serious exposure for any business. Pedro added that between 600 and 800 people attend events at the conference center every weekend, further increasing the number of eyes that will see a business' promotional material.
The chamber also offers business referrals for chamber members only.
"About 50 to 100 people a day contact the chamber for a referral for one business or another," Pedro said. Silver members and above can have their materials, such as brochures, menus and coupons, included in the chamber's re-location packets.
"A lot of companies recruiting new employees come in and get 10 or 20 or more packets a time," she said.
Every member has his or her own reason for joining the Hermiston Chamber of Commerce. Pedro said some do so just to support the chamber.
"But a lot of other chamber members really do need us to help grow their business," she said. The biggest lesson learned from Chamber 101 was this: A toolbox is only helpful if the box is opened and the tools are put to good use.
"If you do take advantage of what we have to offer," said Thomson, "you will be a successful business."