A Stanfield man, who police say was likely targeting area youth, was arrested on multiple narcotics charges.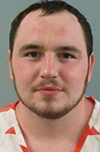 Steven A. Allan, 22, was arrested Wednesday at the Pilot Truck Stop in Stanfield after a targeted traffic stop. Hermiston Police Department officers obtained a search warrant and seized numerous items from his 2014 Hyundai. Allan was arrested on the scene and charged with possession of a controlled substance Schedule 1, manufacture and delivery of a controlled substance within 1,000 feet of a school, as well as on a probation warrant.
"HPD had suspected Mr. Allan was involved in the drug trade and likely targeting area youth as his customer base," said Hermiston Police Chief Jason Edmiston.
After obtaining a search warrant for Allan's residence on Thursday, members of the Blue Mountain Narcotics Enforcement Team (BENT) conducted a search at that location.
Overall, HPD seized more than $10,000 in cash, more than 10 ounces of marijuana, three-plus ounces of psilocybin mushrooms, two-plus ounces of cocaine, over three ounces of MDMA (commonly known as ecstasy), more than four ounces of Xanax bars, 69 tabs of suspected LSD, and multiple jars of unknown substances all believed to be controlled and illegal, according to Edmiston.
HPD was assisted by the Oregon State Police, Stanfield Police Department, and the BENT task force. Edmiston said he was also grateful for an alert parent who assisted in the investigation.
"Though Mr. Allan was cooperative with us once caught, he is exactly the type of scourge on society that belongs in jail awaiting his day in court," said Edmiston.