The Hermiston Police Department (HPD) is continuing an eight-month investigation into the disappearance of Graciela Garcia, who was reported missing on Nov. 11.
HPD Chief Jason Edmiston released some information about the case on the department's Facebook page.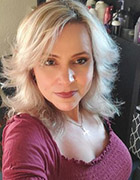 Garcia, 49, was reported missing three days after she was last seen in Hermiston. Edmiston said the department considered her disappearance 'suspicious' and immediately began an investigation.
"We asked for, and received, a significant number of additional resources from the Oregon State Police," wrote Edmiston. "Their assistance was primarily additional detectives. We also consulted with the FBI regarding technical assistance with certain evidence. Those resources are still available to us and are being used as needed."
Police officers searched locations Garcia was known to frequent as well as other places that were discovered during the course of the investigation. Among these locations were the house where she lived with her husband and other properties in Umatilla County.
Edmiston said Garcia's husband has been cooperative throughout the investigation. He has consented to a search of his home and other property under his control, been interviewed on more than one occasion, provided DNA samples, and more.
"He was under no legal obligation to do any of those things, and his cooperation was not compelled in any manner," Edmiston said. "There has also been a lot of misinformation circulating about this case. We have not addressed this, until now, because it is mostly speculation and rumor."
Edmiston said none of the detectives assigned to the investigation, and to his knowledge no members of the HPD, have any personal connection or social acquaintance with anybody connected to the case. This includes Garcia, her family, and her husband.
As for why an arrest hasn't been made, Edmiston said standards must be met first.
"In order to make an arrest and hold somebody in jail, we need to establish probable cause," he said. "Legally, probable cause is defined as a substantial, objective basis to believe that, more likely than not, a crime has been committed and the person to be arrested has committed that crime. We have not been able to establish this as yet. The standard for conviction in a criminal case is even higher."
Edmiston said there is currently a fundraiser circulating on social media to hire private investigators to work on this case. He said his department has no opinion on that, or whether or not members of the community should donate.
"Members of the public wishing to donate should know that the money will, in no way, benefit the Hermiston Police Department or the partner agencies assisting us," said Edmiston.
Edmiston said he understands the frustration felt by members of the community over the long investigation.
"Like the whole community, but particularly Graciela's family, we want answers," said Edmiston. "The case will remain open until we get those answers. While the unanswered questions are frustrating to every member of this community, real-life cases aren't solved in a single episode, and the investigations must be conducted in compliance with the law and the constitution."
Anyone with information that can assist with the investigation, is asked to call 541-567-5519.