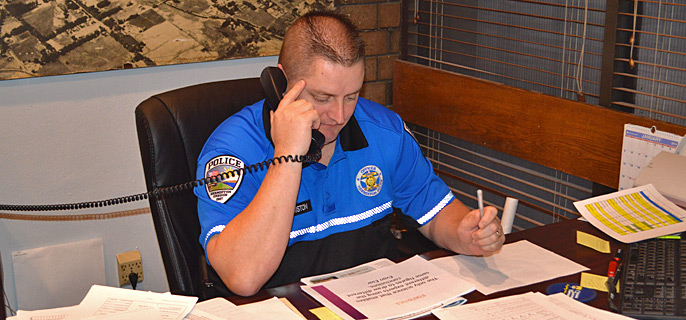 The Hermiston Police Department has identified a trend in juvenile crime that has its chief perplexed. In the past two years, the number of juveniles arrested by the HPD has dropped 48 percent and the number of offenses committed by juveniles has fallen by 55 percent.
"Something's working right and I struggle to put my finger on it," HPD Chief Jason Edmiston said Monday afternoon, prior to presenting a report to the Hermiston School Board and Hermiston City Council.
In 2011, the Hermiston police arrested 511 juveniles and charged them with 821 offenses. Those numbers dropped to 321 arrests on 544 charges in 2012 and 268 arrests of juveniles in 2013 on 373 charges.
There's an ESPN show called Numbers Never Lie, but Edmiston said he is "cautiously skeptical" when it comes to statistics. In his report to the school board and city council, Edmiston included the following quote by Evan Esar, "Statistics: The only science that enables different experts using the same figures to draw different conclusions."
Edmiston said he has been trying to explain the huge drop in juvenile crime numbers. In doing so, he sounds a bit like a man who just did his taxes and found out he's getting a much bigger refund than he typically receives. He likes it, but doesn't understand it.
"Last year I asked myself, 'Are we turning a blind eye to juvenile crime?' Then we saw another drop of 17 percent this year, so I really don't think that's the case," Edmiston said.
The HPD isn't alone in seeing a major drop in juvenile crime. The county's Juvenile Department has also seen a corresponding drop in offenses committed by juveniles. The number of youth referred to the Juvenile Department has dropped from 854 in 2011 to 512 in 2013.
Edmiston does have some theories as to why there are fewer crimes being committed by young people in the city. He gives a lot of credit to the Hermiston School District and the formation of the Community Accountability Board or CAB. The board gives first-time juvenile offenders a chance to avoid the criminal justice system by putting them in a diversion program. Since its inception in 2008, 239 juveniles have gone through the program and 94 percent of them have not had any repeat offenses.
"I'd like to think the CAB is having an impact," Edmiston said. The chief also believes Hermiston's schools have played a part in keeping their students out of trouble. In the past few years, security surveillance cameras have kept an eye on student behavior. And, he added, there's something to be said for having nice, new schools to learn in.
"Some of this can be directly tied to the physical condition of our schools," he said. "You're less likely to vandalize something if your school is in good physical shape."
Members of the Hermiston City Council liked what they heard from Edmiston Monday night. Councilman Manuel Gutierrez had another theory as to why fewer Hermiston youth are getting in trouble.
"This city has a lot of good sports programs," he said. "When we have kids involved in sports, they have less time to be in the streets."
Council President Rod Hardin noted the drop in crime is taking place at a time when Hermiston's population is continuing to grow.
"I just think it's encouraging that we're a growing population and crime isn't growing with it," he said.