Umatilla's Ashley Wheeler turned a common dilemma facing many growing families into a business – and got a little help recently with an electronic billboard display on Times Square in New York.
Wheeler and her husband, Jeff, have a large, blended family – eight kids, in fact, now ranging in age from 6 to 25 . She faced the same dilemma many mothers with young children have.
"I was trying to figure out a way to get rid of our kids' clothes," she said. "They're growing like weeds and I was looking for something other than traditional yard sales."
In 2017, Wheeler, who also serves on the Umatilla City Council, was introduced by a friend to the company Poshmark, an online marketplace for new and secondhand style for women, men, kids, pets, home, and more.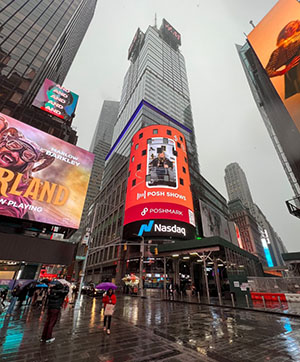 Poshmark connects shoppers to sellers whose style matches their own, allowing them to look into the closets and boutiques of millions of Poshmark members across the U.S., Canada and Australia to find something they love at an affordable price.
Her online profile got a boost on Nov. 27 when Poshmark featured her on an electronic billboard in Times Square to highlight "Second-Hand Sunday," Poshmark's first-ever day dedicated to supporting secondhand sellers.
Americans love to throw old things out and buy new things to replace them – even if there's not a thing wrong with the just-tossed item.
Wheeler said her husband saw this all too often when working at a landfill.
"People are throwing away clothing, household items that are still in great shape," she said.
Rather than throw out older pieces, Wheeler, as a Poshmark ambassador, collects them and puts them up for sale on her website. She also has an eBay store and YouTube channel.
If you're looking for something, odds are you'll find it on her site. She recently did an audit of her inventory and found she had 3,500 items online – and those were just the items listed. She ran out of room in her home and had to rent a storage for her inventory.
"We quickly realized there was no way we could store all the items in the house," she said.
Second-hand sales have become popular – especially among the young who love to seek out second-hand clothes at affordable prices, said Wheeler.
"Thrift stores are the new malls," she said.
She and her husband travel around the region hitting thrift stores for items that could be re-sold.
"We live in the perfect location," she said, noting Boise is in one direction, Portland another, and Bend in still another. "When we're on a road trip, you better believe we're stopping at a thrift store."