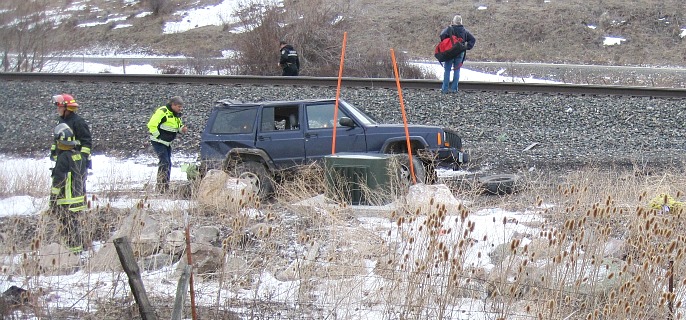 The Oregon State Police (OSP) is continuing the investigation into Tuesday afternoon's fatal collision involving a train and SUV south of Union in Union County.
Preliminary information indicates that on Dec. 29, 2015 at approximately 2:54 p.m., a Union Pacific Railroad train was traveling eastbound and approaching the Curtis Road and Miller Lane crossing when, for unknown reasons, a blue Jeep Cherokee was traveling east on Curtis Road and turned left onto Miller Lane, in the path of the train. The train struck the Cherokee and all three occupants, as well as a dog, were ejected and pronounced deceased at the scene.
The rural area train crossing displayed crossing signs with a stop sign but did not have crossing gate arms. The train did not derail and no injuries were reported aboard the train.
The occupants of the blue 1998 Jeep Cherokee were Clayton Forrest Colpitts, 43, Penny Jo Colpitts, 40, both from Union, and James Austin Johnston, 20, from Chiloquin. It is still undetermined who was driving the vehicle at the time of the crash.
OSP was assisted by Union County Sheriff's Office, Union Fire and Ambulance, La Grande Ambulance, and Union Pacific Railroad representatives.