Feb. 28 started out like any other day at the Umatilla County Sheriff's Office. There was, however, some excitement surrounding the scheduled delivery of its newest piece of patrol and response equipment – an all-terrain vehicle equipped with snow tracks, which was ordered to augment the office's snowmobile patrol program.
The morning changed, though, when a call came into the Umatilla County 911 Center indicating there was an aircraft that crashed in the snowy mountains east of Milton-Freewater. UCSO deputies made their way toward the crash location in search of the pilot and passenger who reported they were waking away from the wreckage.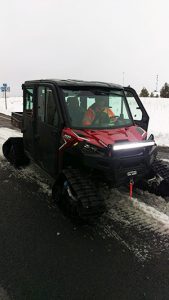 Emergency Manager Tom Roberts called Morrow County Grain Growers to ask them to get the new ATV ready.
They said it would be fueled and ready when he arrived.
Members of the search and rescue team found the pilot and passenger in the Government Camp area. They were cold and wet, but uninjured.
Before the crews could return from the plane crash, another call came from the Umatilla Tribal Police Department asking for help searching for a possibly suicidal man who was on foot in the snow in the Poverty Flats area outside of Pendleton.
Searchers found the man and drove him to safety on the ATV.
"Within the first few hours of having this type of vehicle, we've already demonstrated its value to the sheriff's office," said Umatilla County Undersheriff Jim Littlefield. "While the vehicle's primary mission will be for snow patrol use, it also has the capacity to be used in many other situations and can help us save lives."