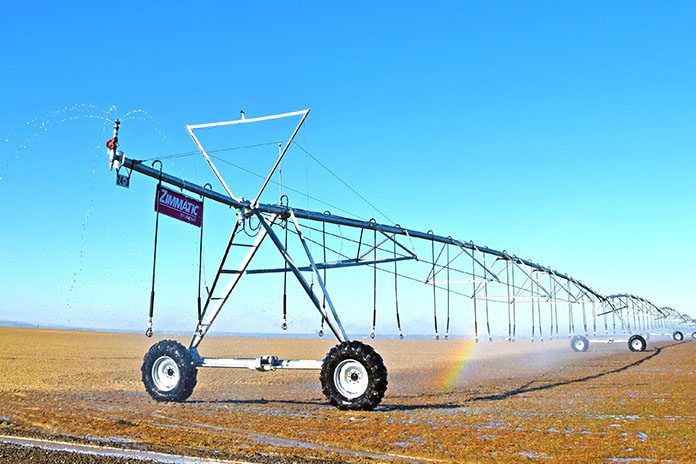 By Marika Sitz
Phil Hamm is anxious to get out of the office. The director of the Hermiston Agricultural Research & Extension Center (HAREC) seems poised to jump out of his chair at any second as he gives me an enthusiastic introduction to the research station.
After spending all of three minutes chatting at his desk about the station's focus on irrigated agriculture, we're stepping into the brisk air for a tour of the Center's grounds. As we stride from building to building, Hamm's unwavering energy is channeled into providing detailed explanations of each structure we pass and giving friendly hellos to researchers we meet along the way.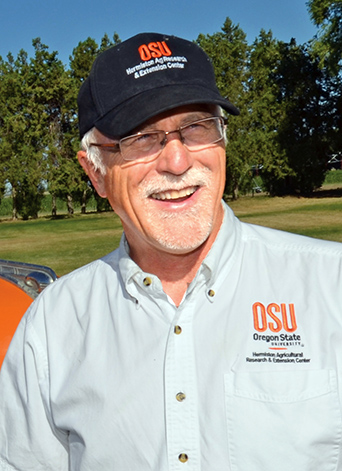 The history of HAREC is indelibly tied to the history of agricultural development in the Umatilla Basin. In the 150 years since the founding of Umatilla County, advances in infrastructure and technology have transformed the arid Basin into a highly productive agricultural hub that produces over 200 different crops on 198,000 irrigated acres.
Hamm proudly notes that although Oregon plants fewer acres of potatoes than Idaho, growers in the Umatilla Basin get two times the potatoes per acre the famous spud state does.
HAREC set up shop in the Umatilla Basin in 1909, but the success story of agriculture in the Umatilla Basin began four years earlier. The 1905 Umatilla Project, an irrigation-focused endeavor, led to the construction of two storage reservoirs: Cold Springs Reservoir and McKay Reservoir.
These reservoirs enabled growers to continue to irrigate with stored water even after the Umatilla River reached its summer low point. Against a landscape of flood and furrow irrigation, and later handlines and wheel lines, Hermiston's research station focused primarily on livestock.
In the late 1960s and early 1970s, pivots made an appearance and the region's irrigated agricultural economy boomed. As focuses in the Basin increasingly emphasized irrigated agriculture, the Umatilla Basin's longstanding agricultural institution transitioned as well. An old milking barn and line of animal stalls, now repurposed to support irrigated agriculture research, stand as reminders of HAREC's past.
No one understands this better than Fred Ziari, president of IRZ Consulting. Ziari's desk in his Hermiston office features the usual computer, paper and pens. Additionally, a sprinkler nozzle sitting on one corner provides a subtle hint as to the desk occupant's interests. Indeed, Ziari is quite subtle for the most part, and his quiet demeanor belies his impressive role in driving the adoption of advanced irrigation technology in the Umatilla Basin over the past 35 years.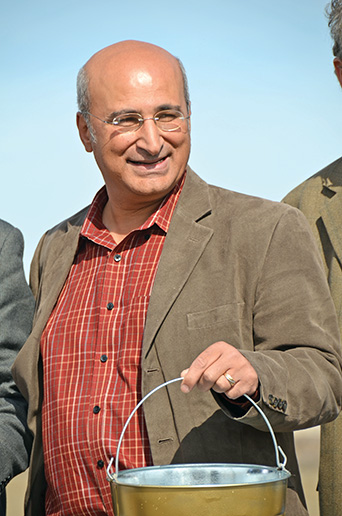 Rising power rates spurred by the energy crisis of the 1970s and 1980s set the stage for Ziari's 1982 arrival in the Basin. Higher power rates meant higher bills for farms that relied on pumps and sprinklers to deliver water. In the face of this expensive challenge, local growers partnered with Umatilla Electric Cooperative to form the Agribusiness Taskforce.
Ziari was hired by Umatilla Electric as part of the Taskforce initiative. He came from a faculty position at University of Washington and brought with him the skilled perspective of an engineer as well as a farming background from his childhood in Iran.Upon his arrival, he began developing programs to help farmers increase energy and water efficiency. The pivots of the 1970s and 80s applied water at a greater volume than the crop required, and Ziari estimates that inefficient pivots meant farmers were applying 50 percent or more water than was needed.
As part of a multi-year assessment, he oversaw an effort to test pumps for energy efficiency. In parallel, he also worked to introduce low pressure sprinkler nozzles to reduce water waste. He founded IRZ Consulting in 1983, which continues to provide farmers with resources to maximize water and energy efficiency while increasing crop yields.
Infrastructure, climate, technology and continued attention to water use–the Umatilla Basin has these elements working in its favor. Ziari also remarks on the strong desire to "do better" by Basin farmers. After all, it was a group of motivated growers interested in water and energy efficiency that ultimately made his position possible.
His story isn't a one-off. In 1990, local growers lobbied the Oregon Legislature to establish the job of plant pathologist at HAREC. Such an extension position puts Oregon State faculty in the joint role of being a researcher and a communicator to provide farmers with an expert source of information to help them maximize the potential of their crops.
Phil Hamm came to the Basin as the OSU faculty member hired for the newly created position. Both Ziari and Hamm recognize the value of local interest in creating their original positions, and are quick to note the importance of continued community support and collaboration for their missions.
The steady developments in the fields around Umatilla and Morrow counties may not easy to spot for local citizens who don't engage with agriculture daily. Across the Umatilla Basin, about 80 percent of farms have sensors to monitor soil moisture, and 50 weather stations help to calculate crop water needs. The pivots of today operate against a backdrop of data monitoring technology and are far more efficient than their predecessors.
Over the past decades, yields have increased and water and energy consumption for agriculture has decreased across the Umatilla Basin. IRZ estimates that technological advances in irrigation save 10 billion gallons of water and millions of kilowatts of energy each year.
When asked about the future of irrigated agriculture technology, Ziari emphasizes the dual necessity of appreciating the progress that has been made while continuing the tradition of being open to new technology. And he has a few things on his list.
Mobile phones can do a great deal of monitoring and control, and there's no sign of that changing. Wireless technology and an increasing number of sensors will likely mean a greater role for the interconnected "internet of things." One tangible technology in its early stages is a variable rate nozzle. Pivots that feature these nozzles can precisely adjust the amount of water not only to a given plant, but to a given segment of field below based on input from other monitoring sensors.
On the south end of Hermiston, HAREC recently introduced a variable rate pivot in one of its fields. Nearby, a new building houses Blue Mountain Community College's Precision Irrigated Agriculture program, which will allow students to receive training on the latest irrigation technology.
Here and elsewhere across the region are sure signs that irrigation technology is continuing to advance and "do better," allowing farms, businesses, and the community to grow and thrive alongside the surrounding fields.
Marika Sitz, a Pendleton High School and Stanford University graduate, is Coordinator of the Oregon Water Coalition.