The Oregon State Police is assisting the Union County Search and Rescue team and Sheriff's Office in locating a missing 22-year-old La Grande man who was last seen in the Pendleton area.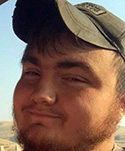 Law enforcement is looking for Jacob Aaron Cartwright, whose last known contact was Tuesday around 5:30 p.m. in the Pendleton area.
Cartwright was operating a green 2005 Kenworth commercial motor vehicle (CMV) with the company name "Little Tree Transportation" on it with a white semi-trailer.  The license on the CMV is an Oregon plate YAIN633.  At the time, Cartwright was making a delivery in Nyssa, where he was expected around 7:30 a.m. on Wednesday.
GPS information for the CMV on April 26 at approximately noon indicated its location in the area of Highway 244 near MacIntyre Road, which is just west of Hilgard State Park.  This area has been searched by OSP aircraft and continues to be searched by ground rescue personnel.  This area is very remote, heavily wooded with rough terrain and very expansive.
If Cartwright or the CMV is seen, the public is urged to contact the Union County Sheriff's Office at 541-963-1017