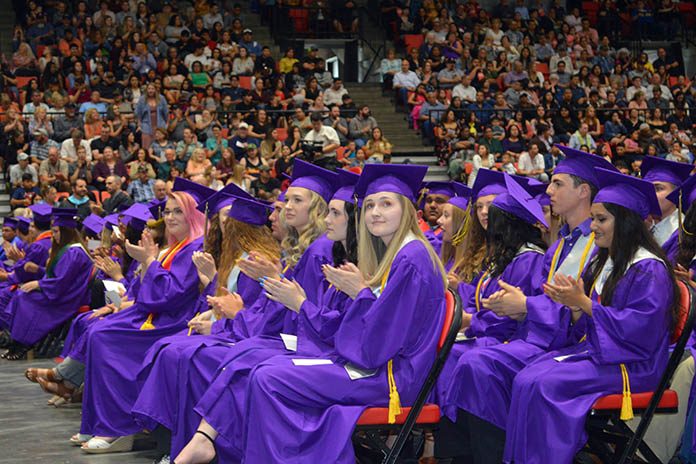 More than 350 Hermiston High School seniors graduated Thursday night across the river in Kennewick's Toyota Center, breaking last year's record of 342.
Student speakers thanked their teachers and parents while urging their fellow classmates to follow their passions and dreams.
"Tonight is one of the last times we'll stand together as the Class of 2019," said Isel Tejeda Urenda in her welcoming address. "Let's not lose sight of the village it took to raise us. Look around you at the hundreds of people here who are supporting us tonight."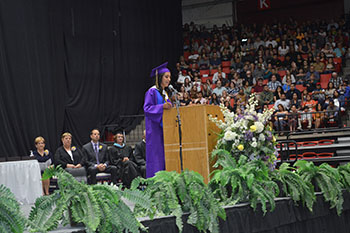 Adriann Stewart gave the class history, noting the changes in both pop culture and beyond that she and the other 350 senior experienced in their lives.
"We are the class that lived through the rise of the Jonas Brothers, their fall and their rise again," she said, eliciting laughter from the audience. "We saw the election of the first black president and the first celebrity president."
Moanamarie Peterson delivered some harsh news to her fellow classmates.
"You're mom isn't going to wake you up for school anymore," she said. She also predicted some diverse futures for the Class of 2019.
"Some of us will become doctors, some of us will become lawyers and some of us may become architects," she said. "And maybe a few of us will become prison inmates, too." That line got the biggest reaction from Thursday's crowd.
On a more serious note, Peterson told her fellow seniors to choose their friends wisely.
"Surround yourself with people who support you and share your values," she said.
HHS Principal Tom Spoo praised the Class of 2019 as high achievers in the classroom and on the athletic field. This year's class featured three valedictorians who all achieved a perfect 4.0 GPA (Madison Anderholm, Gideon Fritz and Moanamarie Peterson). There were also 22 seniors who received their Honors diplomas and together, the Class of 2019 earned more than $4.5 million in scholarships.
"Collectively, the Class of 2019 qualifies as one of our finest," said Spoo.
Umatilla County Deputy District Attorney Jaclyn Jenkins, the 2019 Distinguished Alumnus Award recipient, told the graduating seniors that she wished greatness for them.
"Nothing more and nothing less than greatness," said the 2001 HHS grad. She said greatness does not necessarily mean landing a job that pays big money. Instead, greatness can be internal strength and fortitude.
"I wish you the strength to weather storms but also to provide emotional shelter for others," she said.
"Congratulations to the Class of 2019 – my fellow distinguished alums"