New Hope Community Church is now registering participants for this summer's Ambassadors Soccer Camp.
The church has lowered the cost of this year's camp to $90 for those who register by May 1. The cost for the camp after May 1 is $110 and $130 for those who sign up the day the camp gets underway.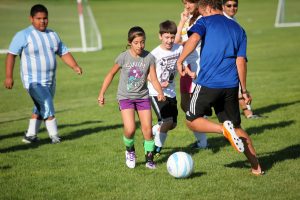 "Camp organizers are hoping this new low price will help families fit into their budget an opportunity for their children to improve upon their soccer skills and build character in a fun, caring environment," said Carolyn Murray.
Ambassadors Soccer Camp, for children ages 6-14, will meet from 8 a.m. to 2 p.m. each day from July 16-20 at Sunset Elementary School. The International Ambassadors in Sport organization provides dedicated coaches from around the world who are trained to challenge and improve young campers. According to its website, Ambassadors in Sport has more than 1,000 trained volunteers who operate with local staff and volunteers in 22 countries. The camp is facilitated locally by the staff and volunteers from New Hope Community Church.
Participants are encouraged to register online. For more information, call New Hope Community Church at 567-8441