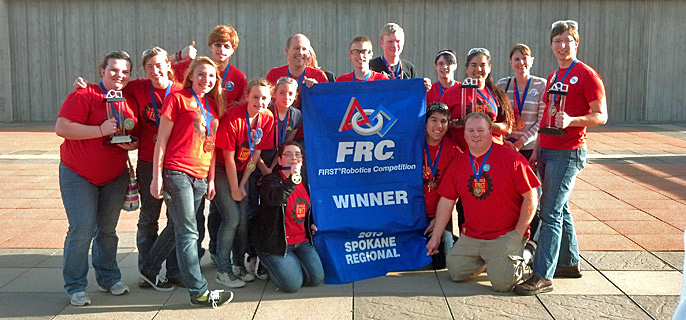 [quote style="2″]UHS Team Heads to St. Louis on Monday[/quote]
With its $15,000 fund-raising goal surpassed, the Umatilla Robotics Club will set off for St. Louis on Monday morning.
On April 6, the team qualified for the FIRST Robotics Competition World Championships through a regional competition in Spokane. But to get to St. Louis for the finals April 24-27, the team had to raise $15,000 to pay for transportation, meals and the entry fee.
On Thursday, the team surpassed that goal. In less than two weeks, the students and team mentors raised the necessary funding through:
Fundraising events: $2,900
On Saturday, the club hosted a yard sale, bake sale and pancake breakfast at the district office.
Business and community sponsors: $4,255
Sponsors include: Chuckwagon Cafe, Farnsworth Cliff Street Engravers, In-Out Burger, Great Basin Environmental, Mingo Mountain Retreat, LLC, Freestyle Pizza, Java Junkies, Harvest Foods, Gallegos Concrete Construction, Umatilla Booster Club, Clean Spot Car Wash, Midco Bus, Umatilla Lions Club, Platt Electric, LGW Ranch, Carlson's Umatilla Drug, Umatilla Kiwanis, Tom Denchel Ford and the Umatilla Chamber of Commerce and Vistor's Center.
Personal donations: $8,484.73
Ninety-six personal donors gave to the Umatilla Robotics Club in the past two weeks.
"We are amazed at the numbers of people willing to give to help our students reach their goal," Umatilla Superintendent Heidi Sipe said in an e-mail. "Our personal donations ranged from $3.07 to $600 and everything in between (even a five-gallon bucket of change). It's been just incredible."
Overall, the contributions totaled $15,638.73. The extra money will support next year's robotics team and competition
This year's team will leave UHS Monday morning on its way to the World Finals in St. Louis. The team's robot, Rambo, has already been shipped to the competition.
"The Umatilla Robotics team looks forward to returning from the World Finals soon and giving back to the community that has helped make our dreams reality," Sipe said. "We'll be working hard to make our community proud."
Follow the team's progress at the UHS Robotics Team webpage.