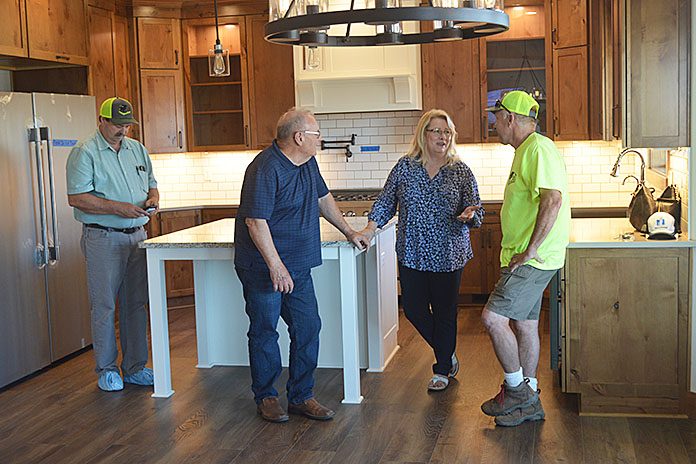 Mike and Loy Stratton were handed the keys to their new home on Tuesday – the seventh one built by students in the Columbia Basin Student Home Builder program.
The couple, who moved to Hermiston from Pendleton to be closer to family, fell in love with the house and bought it back in April well before it was even finished.
Loy said she and Mike drove down Angus Court in Hermiston looking for a new home and were impressed by the quality of the houses – not knowing they were built by students.
Fast forward some time later and their realtor had scheduled them to look at several houses. The night before, however, Loy found online a new listing for a house that was little more than drywall. She called the realtor and added it to the list of homes to look at.
"As we were approaching the street, I told Mike, 'I think this is the street we looked at earlier.' Then, when we turned down this street, I said, 'It's our street, Mike!' "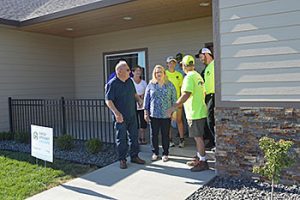 Loy said she knew she had to have it after learning it was part of the student home building program.
The program is run by Hermiston High School's Curt Berger. He said it's always a challenge to build a new home from scratch, but with the pandemic, the seventh student-built home faced even more difficulties when ground was broken on Aug. 10.
"We were very fortunate," he said. "We were able to run the whole class right through the school year, even with all the COVID protocols."
The program is sponsored by the Northeast Oregon Homebuilders Association in partnership with the city of Hermiston and the Hermiston School District. Students are involved in all facets from design, construction, oversight and marketing.
"We're trying to give students the whole experience from clearing dirt right up to the finished house, so they get to see the whole process and decide what they want to do after high school," said Berger.
Several former students who went through the program are now professional contractors or working in one way or another in the construction business, said Berger. One of those is Gideon Fritz, who graduated from HHS several years ago.
"I came through this program," he said on Tuesday.
"I snagged him and had him come in and help finish up," said Berger. Fritz did a lot of work on the kitchen and was busy finishing up the landscaping right up through Tuesday afternoon.
The Strattons new home is a 2,232-square-foot energy-efficient house with three bedrooms, two and a half baths, and an oversized three-car garage able to accommodate a large pickup truck with a 10' by 8' bay. Highlighted home amenities include a 72-inch freezer/refrigerator combo, hidden pantry, and dining room with a bay window.
Sales from each home help pay for the design, construction and marketing of the next home.