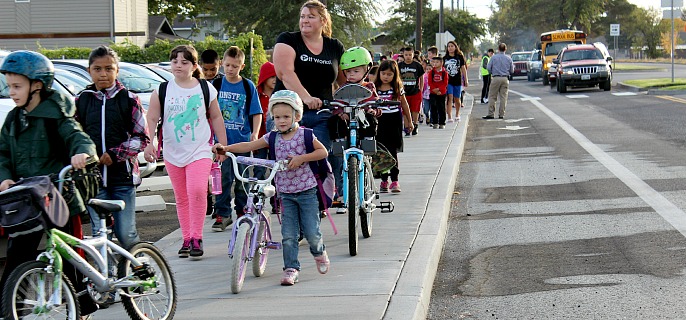 A steady stream of backpacks, jackets and tennis shoes moved down Columbia Boulevard on Wednesday morning as students made their way toward McNary Heights Elementary for Walk and Bike to School Day.
This is the second year the Umatilla school has participated in the state and international effort.
"Last year it was alright, but I wanted to make sure it was bigger and better this year," McNary Heights Vice Principal Rick Cotterell said Wednesday. "We did a lot more planning and coordinating, and it definitely grew."
Community volunteers, Umatilla Police Department officers and Umatilla High School TAG students all came out to help make sure everyone walking and biking did so safely. The improved coordination also included working with Mid-Columbia Bus Company to have students dropped off at Umatilla Baptist Church – about two blocks away – so students who usually ride the bus could participate.
"We had some pretty excited kids getting off the bus who said, 'We've never walked to school,' so that was exciting for us," Cotterell said.
The Safe Communities Coalition offered free bicycle helmets for participating students. Last year, volunteers fit 10 helmets; this year, they fit 40.
Some volunteers also helped direct students through the school's new parking lot system. Through a Safe Routes to Schools grant, the Umatilla School District was able to redesign the front area of the school with new cross walks, a designated bus lane, and vehicle parking separated from Columbia Boulevard. Although students who regularly walk have fallen into the routine already, the bus students were unfamiliar with the new processes, Cotterell said.
The vice principal said the event promotes safe walking and biking, physical activity and outdoor activity. He said the district will participate in the event again next year.
"We're already thinking about how we can make it bigger and better again," he said.
More Stories from Northeast Oregon Now:
Smashed Potatoes: Truck Overturns on Interstate 84
Applications Available for 2015 Fair Court
UNLV Honors HHS Teacher Roger Berger