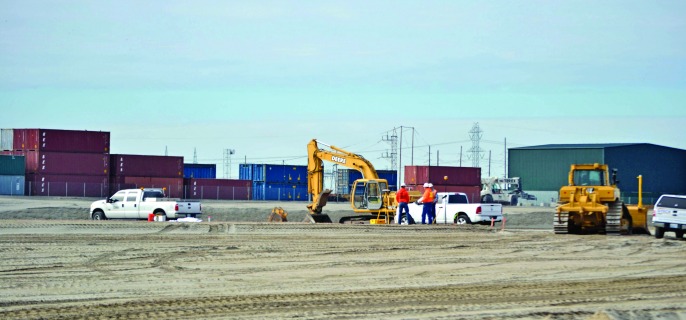 The Port of Morrow started work on its new $14 million cold storage rail transload facility this fall.
The facility's specifications include a 2,500-foot rail spur with switches, and 100,000 square feet of warehouse space. The cold storage facility – in the port's East Beach Industrial Park – will have 75,000 square feet of frozen space and 25,000 square feet of refrigerated space.
(HEPPNER NATIVE ENJOYING SUCCESS OF 'AMERICAN SNIPER')
The Oregon Transportation Commission approved a $6 million grant for a new cold storage rail transload facility this summer, while the remaining $8 million match is covered through the sale of port revenue bonds.
Port of Morrow General Manager Gary Neal said the facility is expected to begin operations in spring 2015 and will be a public warehouse that is owned and operated by the port.
The facility manager has been hired and will bring on an additional 25 employees, all of which will be Port of Morrow staff. Construction plans include paved truck access, lighting and fencing.
"Cold storage space at the Port of Morrow is a critical part of the port's infrastructure to utilize the intermodal transportation benefits of the port's strategic location," Neal said. "This new facility at the port and the interconnection to all modes of transportation was the reason ConnectOregon was conceived and implemented by the Oregon Legislature."
Fisher and Sons Inc., from Burlington, Wash., received the construction bid for the project.
The state transportation commission approved 36 out of the 37 recommended projects.
According to the Oregon Department of Transportation, ConnectOregon focuses on improving connections and supporting local economies throughout the state. The Oregon Legislature first approved ConnectOregon in 2005.
The region's food processing industry, including many businesses in the port's industrial park, will be able to take advantage of the warehousing capacity to assist them in freezing and distributing products across the United States via the railroad, highways and barging to export terminals in Portland.
"With increased growth in our region's agricultural industry, the need for this facility has reached the level where the port has determined this to be its highest priority in our strategic investment plans to address these needs," Neal said.
– Contributed by Anna Aylett, Port of Morrow
More Stories from Northeast Oregon Now:
City of Umatilla, Port of Umatilla Reach Agreement in Principle
HHS Grad Earns Girl Scouts' Highest Honor