The suspect in a Hermiston bank robbery Friday afternoon is in custody after leading police on short vehicle pursuit.
Just prior to 3 p.m., Hermiston Police Department officers responded to a report of an armed robbery at Umpqua Bank at 450 N. First Street.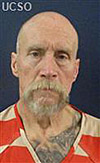 HPD officers were assisted by the Umatilla County Sheriff's Office, Stanfield Police Department, and the Oregon State Police. The suspect led law enforcement on a short vehicle chase before HPD officers took the suspect, 58-year-old Clifford Court Uptegrove of Washington state, into custody.
Uptegrove is currently on probation for a separate armed bank robbery, according to HPD Chief Jason Edmiston.
Though no one was injured, Edmiston said it was "an incredibly traumatic situation for the employees at the bank."
Edmiston said HPD detectives have a search warrant for the vehicle Uptegrove was operating.
"We believe once that vehicle is searched, the gun that was brandished during the robbery and money from the bank will be recovered," said Edmiston.
Uptegrove was charged with first-degree robbery, first-degree aggravated theft, and felony attempt to elude/flee.
In 2005, Uptegrove was sentenced to 20 years in prison for a 2004 armed robbery of Riverview Community Bank in Hazel Dell, Wash. When arrested, officers recovered $13,000 on him. According to the U.S. Attorney's Office for the Western District of Washington, when questioned, Uptegrove admitted to nine previous bank robberies dating back to 2001. Those robberies included two banks in Kennewick, Wash.