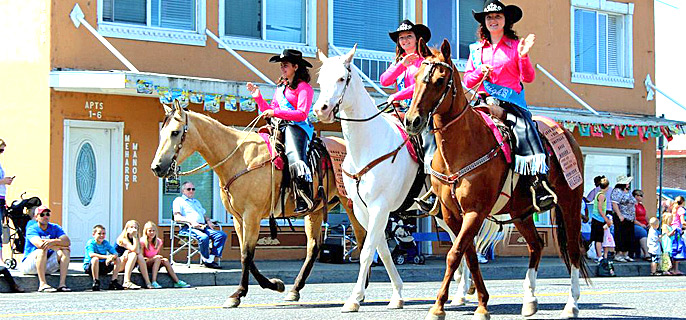 Umatilla is ready to throw an all-day party on June 28 in celebration of the annual Umatilla Landing Days and is inviting everyone to join the festivities.
The fun gets under way at 10:30 a.m. with a parade through downtown Umatilla. The action will then move over to Marina Park at 11 for a full day of games, music, food and riverboat tours. Parking at the marina will cost $3, but there is no entry fee for the Landing Days events.
Umatilla Chamber of Commerce Executive Director Karen Hutchinson-Talaski said there will be plenty to do for the entire family, including games for kids, a petting zoo, bouncy houses and more.
Headlining the day's entertainment will be local favorite, Blue Tattoo.
"The group plays some of the best classic rock and roll around," Hutchinson-Talaski said. The concert begins at 7 p.m.
Additional entertainment, starting at noon, will include the Round-Up City Cloggers, the Irrigon High School cheerleaders, BBPD (Brad Rozema and BC Martin), and Totally Kids. The Umatilla High School FIRST robotics team will show off their engineering skills, featuring their medicine ball-throwing robot.
Parade participants are asked to line up at Nugent Park on Eighth and J Streets at 9:30 a.m. Participants are asked to pre-register by June 13 if they want to be judged. Parade applications are available at the chamber website.
Hutchinson-Talaski said there are still available spots for non-food vendors and applications can be picked up at the chamber office or the chamber website.
This year's Landing Days will include a soccer tournament. For more information on the tournament, call Lupe Escovedo at 541-720-6318 or e-mail escovedol@umatillasd.org, or call Nancy Swarat at 541-571-6147 or e-mail swaratn@umatillasd.org.
Back by popular demand will be ferry re-enactments and sign-up sheets for the ferry rides will be at the Ferry Information booth located near the docks of the marina. There will be no fee for the ferry rides, but donations will be accepted.
Tours of Old Town Umatilla will take place at 1 p.m., starting at the Umatilla Chamber booth next to the stage at the Umatilla Marina Park. Sign up for the tour before 1 p.m.
The day will culminate with a fireworks show at 10 p.m.
Hutchinson-Talaski said volunteers are needed to help with parking and clean up during the day. Anyone interested in helping with parking should call Libby Bovent at 541-922-1212. Those willing to help with clean up should call Jennifer Wylie at 541-701-4483.
For more information on Landing Days, call the chamber at 541-922-4825 or e-mail karen@umatillachamber.net.
More Stories from Northeast Oregon Now:
Hermiston Council Amends Transportation Plan
HHH Grads Leave High School Behind
Council Asks Brookshier to Assist Successor