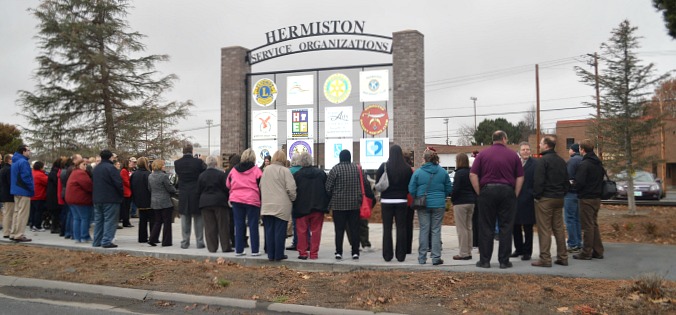 A big part of any healthy community is a large core of volunteers who step up whenever there's a need. Hermiston is known for its community-minded volunteers, and on Wednesday many of them gathered to dedicate a kiosk honoring the city's many service groups.
The new service club sign kiosk, located along the walking path near the intersection of Highway 395 and Orchard Avenue, is a gift to the city of Hermiston from Altrusa International of Hermiston and the Hermiston Rotary Club.
(KING'S WORDS ECHOED IN DOWNTOWN HERMISTON)
"This is truly a joint partnership between Altrusa, Rotary and the city of Hermiston," said Anne Fialka, a member of Altrusa. "The idea began several years ago and we felt it was needed to represent all the volunteers that make Hermiston such a vibrant community."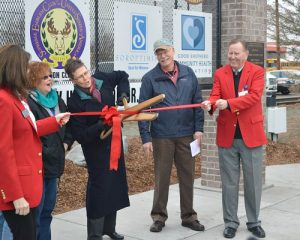 The kiosk features signs representing 12 service clubs in the city: Altrusa, Rotary, Lions International, Hermiston Noon Kiwanis, Hermiston Breakfast Kiwanis, Hermiston Education Foundation, Good Shepherd Community Health Foundation, Hermiston Eagles, Hermiston Desert Shrine Club, Desert Arts Council, Hermiston Soroptimist Club, and the Hermiston Emblem Club.
"These really do represent the core group of people who volunteer and improve our quality of life," Fialka said.
The kiosk is a joint gift to the city of Hermiston from the Hermiston Altrusa Club and the Hermiston Rotary Club. In return, the city has agreed to maintain the kiosk and the landscaping surrounding it. The $12,000 kiosk was paid for, in part, by $500 contributions from each of the 12 service clubs that will be featured on the kiosk.
Fialka paid tribute to the committee that worked on the kiosk project as well as Jim Taft who took a week of his vacation time to construct the brick columns, and Bob Cooley who helped with the kiosk's metal materials.
"They really guided the committee with their expertise," she said.
More Stories from Northeast Oregon Now:
Master Gardener Deadline Extended to Jan. 31
26 Vehicles Crash on Interstate 84